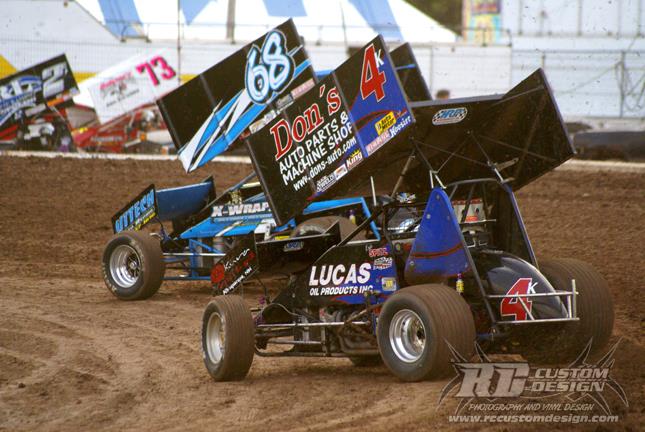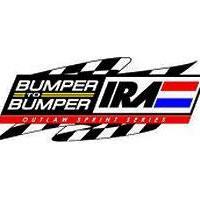 9/12/2013
IRA Interstate Racing Association
---
SPOOKTACULAR SPRINT RACING ON FRIDAY THE 13TH IN OSHKOSH! FILSKOV MEMORIAL ON SATURDAY AT PLYMOUTH DIRT TRACK!
Balog seeks victory lane as he approaches all-time win mark!
McHenry, IL, September 11, 2013 – The 2013 racing season for the Bumper to Bumper IRA Outlaw Sprint Series is beginning to wind down their racing season but fans will have two opportunities this weekend to catch the best in Winged 410 sprint car action as the series heads to a pair of Eastern Wisconsin area ovals.
Several major story lines come into play heading into the weekend. Current point leader and 5-time IRA champion Bill Balog is seeking to overcome Joe Roe's all-time win mark of 61. Heading into this weekend Balog has collected 59 A-main event wins as he looks to match the record during this weekends events. Balog has had a dominating season and has all but locked up a six straight series title. However in recent races teams have stepped up their game making it difficult for Balog to reach the winner's circle.
The past three events has seen a wide variety of faces grace victory lane with wins going to rookie sensation Jeremy Schultz, two-time series champ and veteran racer Scott Neitzel, and Mark Dobmeier who is a part-time World of Outlaw's competitor and point leader at Huset's (SD) Speedway.
Balog's rivals are set to try and run his winless streak to four this weekend and if they do so it's the longest shutout of the #17b in victory lane since May of 2012.
The showdown begins on Friday the 13th!
Known as the "Sprint Spooktacular", the race is a makeup event for the season opening IRA show which fell to rain at the Oshkosh Speedzone back in April. Balog has made "The Zone" his personal stomping ground having won six of the past eight contests held at the semi-banked third-mile clay oval whose sweeping turns result in speeds reaching nearly 120 mph.
Other victors in recent years at the facility have been Mike Kertscher and Mike Reinke, with Kertscher's win in August of 2011 marking the last time anyone has bested Balog at the raceway. Should Balog win, it would mark the fourth straight victory at the track.
Racing action is set for 7:00pm on the semi-banked third-mile, clay oval. The Bumper to Bumper IRA Outlaw Sprints will be joined by the 360 sprints which features the top weekly sprint drivers from the nearby Plymouth and Manitowoc ovals. Plus for fendered fans the Grand Nationals will be in the house to do battle.
Pit gates will open at 4:00pm, with the grandstands opening at 5:00pm. Sprint warm-ups take place at 5:30pm with Qualifying for the IRA sprints getting underway at 6:00pm. Racing will follow qualifying.
Adult grandstand admission is $20 and students ages 11-15 are admitted for $10. Children ages 10 and under are admitted FREE with a paid adult.
Fans and drivers can find additional details on this events by visiting the track website at www.oshkoshspeedzone.net . Oshkosh Speedzone can also be found on Facebook at www.facebook.com/thespeedzone
Oshkosh Speedzone Raceway is a 1/3 mile semi-banked clay oval located at the Sunnyview Expo Center which resides near the intersection of Highways 76 and County Trunk Y in Oshkosh.
Then on Saturday night, September 14th, the Bumper to Bumper IRA Outlaw Sprint Series heads to the Plymouth Dirt Track located at the Sheboygan County Fairpark for the 17th running of the Frank Filskov Memorial race. The main event will be contested at 27 laps for the 410 sprints with the 27 trips around the quarter-mile oval representing the number Filskov carried on his cars.
Once again the 360 sprints will be joining in the activities and will hold a 28 lap main event as both series races combine with 55 laps of A-main action to honor Brian Portschy. Portschy who for years drove his #55 sprint car was a fan favorite and had been a competitor in both classes. Portschy recently lost his life in a non-racing related accident.
The Filskov Memorial race has had a wide variety of winners with no driver collecting more then two wins during the previous 16 contests. Balog, Kertscher, Kim Mock and Kurt Winker have each scored two victories.
More often than not the Filskov event has seen new faces reach victory lane with drivers like Brian Kristan, Scott Uttech and Tim Vandervere all tasting victory in the event. Of any of the upcoming races it seems the Filskov Memorial could set the stage for a breakthrough victory on the IRA tour.
The full size sprint cars will be joined by the mini-sprints making for an action packed all open wheeled show.
Pits will open at the track at 3:00pm, with the grandstands opening at 4:30pm. The first cars are expected to go trackside for hot laps at 5:30pm
Tickets are $20 for adults with a student ticket for fans ages 6 through 12 available for $5. Children 5 and under are admitted FREE with a paid adult ticket.
Fans and teams should be advised of local road construction. Fairview Drive (CTY O ) exit off HWY 23 is now open. Cty E exit off HWY 23 is now closed. When leaving the Sheboygan County Fairpark, you may no longer head west on 23 off Fairview Dr. You will need to go through town and follow HWY 67 to 23.
For additional information check out the track website at www.plymouthdtr.com
For more information on the IRA Outlaw Sprints check out the tour website at www.irasprints.com or logging onto the series Facebook page at www.facebook.com/irasprints
The IRA Outlaw Sprint Series is proudly supported by Bumper to Bumper Auto Parts & Service Centers, Hoosier Tire, Osborn & Son Trucking, TW Metals, Onan, Carriage Auto Body, Polaris DEFENSE, and Mother's Polishes and Waxes. The office of the IRA Sprints can be reached at 815-759-9269 or by e-mail at steve@irasprints.com
---
Article Credit: Jeffrey Sachse
Submitted By: Jeffrey Sachse
Back to News