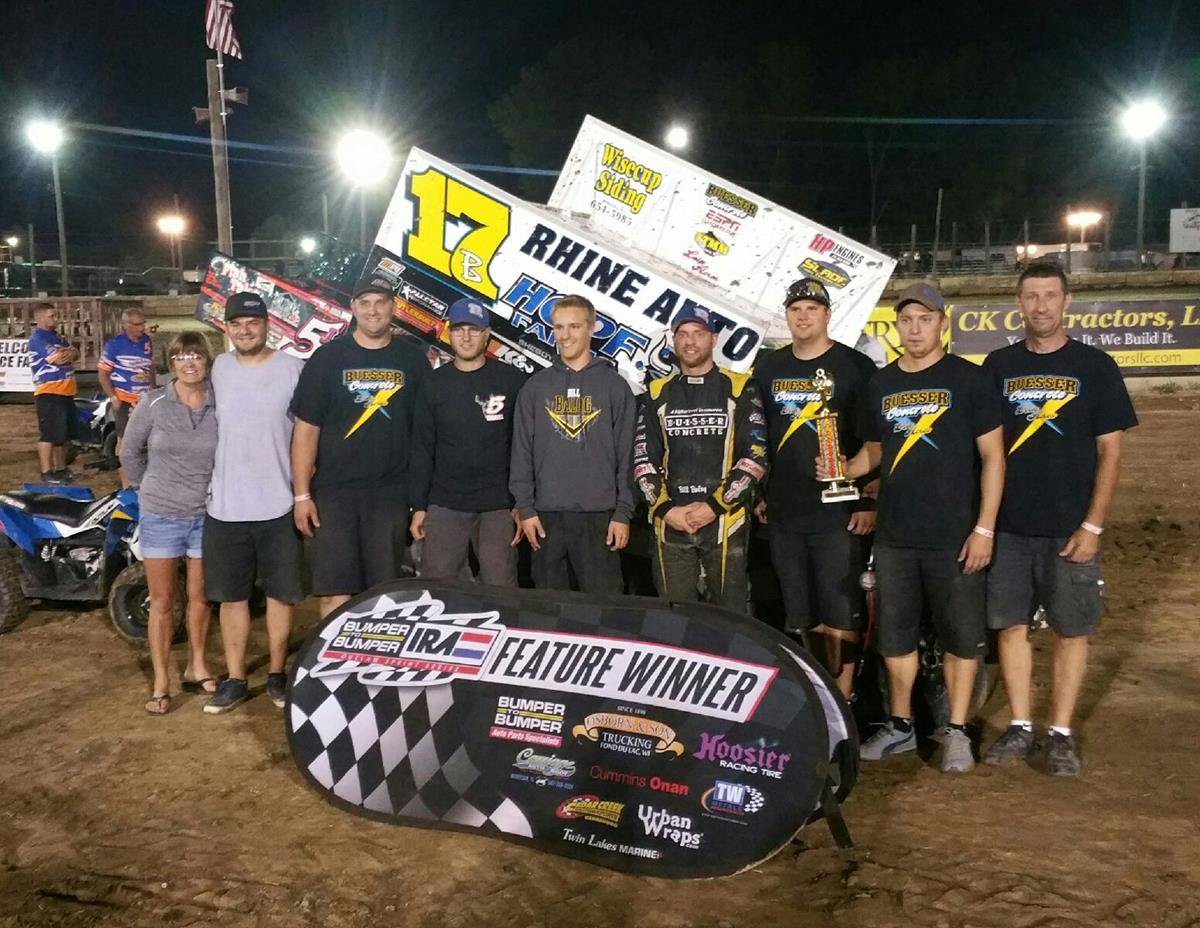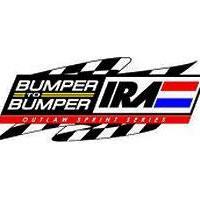 8/20/2016
IRA Interstate Racing Association
---
BALOG OPENS KENOSHA COUNTY FAIR WEEKEND WITH VICTORY IN BUMPER TO BUMPER IRA OUTLAW SPRINT SERIES ACTION!
POINT LEADER JEREMY SCHULTZ CHASES BILL BALOG TO CHECKERED IN BUMPER TO BUMPER IRA SPRINT ACTION AT WILMOT RACEWAY!
August 19, 2016; Kenosha, WI – For a brief time on Friday morning before teams arrived at Wilmot Raceway for the opening round of the Kenosha County Fair and the first day of the Carriage Auto Body Roger Illes Memorial it appeared the event might be threatened by weather and possibly postponed.
Track officials managed to whip the track into raceable condition after morning rain and threatening weather gave way to a great night of racing action.
Seven-time Bumper to Bumper IRA Outlaw Sprint Series champion Bill Balog had captured the most recent IRA contest at the paper clip shaped third-mile clay oval back in July and entered this event seeking a series-leading sixth victory in the 2016 campaign. To get to the winner's circle however Balog would have to outrun Jeremy Schultz, a two-time Wilmot Raceway champion and IRA series point leader.
Schultz whose run to the top of the current standings has included an impressive ten straight top-five finishes and a victory in the last IRA contest that was held two weeks ago at the Plymouth Dirt Track.
It was no surprise then that the two hard charging racers would square off for victory this evening.
The 30 lap A-main began with polesitter Scotty Neitzel launching into the opening lead after getting the upper hand on Schultz who had started the contest on the outside front row.
Neitzel, who is also in the thick of the season long point chase is seeking to add a third crown to his two previous series championships.
Neitzel was still leading Schultz, with Balog running in the third spot when the caution flew on lap seven which occurred as a result of a Scotty Thiel spin.
Thiel had been leading the series standings until recently had suffered numerous setbacks in his title chase in recent events and is now attempting to run down Schultz to regain the point lead. Tonight Thiel recorded a 17th place nursing a car with brake issues, which did not help his title hopes.
On the restart Schultz replaced Neitzel on top the leaderboard and Balog was able to claim second from Neitzel moments later.
The battle for the top spot between Schultz and Balog was halted just before the halfway mark when Brandon Wimmer expired a motor while running inside the top ten.
Balog wasted no time in getting to the front when action resumed taking over the top spot.
Schultz would give chase for the duration of the contest but no opportunity presented itself to regain the lead.
Balog spent the final laps placing lapped machines between himself and Schultz to secure the win. Schultz held off a hard charging Parker-Price Miller to earn second with Kokomo, Indiana native Miller taking the final podium spot in third.
Local favorite Phillip Mock crossed the line in fourth matching his performance from the most recent IRA contest two weeks ago. Neitzel completed the top five.
Todd Daun earned sixth followed by Mike Kertscher who advanced the most spots of any driver in the feature vaulting from 19th up to seventh. Matt Vandervere, Blake Nimee and Mike Reinke completed the top ten.
19 of the 24 starters were still on the track at the finish.
In earlier action, Ben Schmidt, sporting a new number this evening placed his #59 machine in the winner's circle in the B-main. Reinke, Kris Spitz, Dave Uttech, Johnny Fahl and Chris Dodd completed the top six drivers who advanced to the feature.
Heat race wins were claimed by Kyle Marten, Vandervere and Bill Wirth.
31 drivers had checked in for action with Mock earning the fastest time by a mere .001 seconds. Mock's lap of 13.587 seconds edged out Price-Miller's 13.588 an almost undetectable margin. If both cars were competing side by side, Mock's machine would have reached the finish line first by just over one inch. Balog was third quick at 13.637 seconds.
The teams of the Bumper to Bumper IRA Sprints are right back in action again at Wilmot Raceway for the second day of the Kenosha County Fair.
The Saturday, August 20th program will be day two of the Carriage Auto Body Roger Illes Memorial as the IRA sprint cars make their final appearance of their 50th Anniversary Season Tour at their original home track. Saturday's annual Roger Iles Tribute will pay $3600 to win the 36 lap finale. Modifieds, Wisconsin-Illinois Mini-Sprints and Bandit 4-cylinder stock cars are on the August 20 program as well.
Cars will take to the track starting at 6:00pm.
Attending the event requires a fair admission. Kenosha County Fair admission is $9.00 daily for adults ages 12 and over, $5.00 for children ages 8-11, with youth ages 7 and under admitted free. General parking is free.
For the latest information on the fair go to the official web site www.kenoshacofair.com.
Admission into the grandstands for the races requires an additional $5.00 ticket for everyone ages 12 and older, with children ages 11 and under admitted free.
For additional information on the races, you can check out the Wilmot Raceway web site www.wilmotraceway.com, the track Facebook page or trackside race line 262-862-2090.
Wilmot Raceway is located on the Kenosha County Fairgrounds in Wilmot, Wisconsin. Take I-94 to Kenosha County Hwy. C, C west to downtown Wilmot. Go north on County Hwy. W (Fox River Road) one-quarter mile to the fairgrounds and the Raceway.
After two nights at the Wilmot Raceway it's time for an epic gathering of sprint car racing at Angell Park Speedway in Sun Prairie, Wisconsin.
For the first time ever the Bumper to Bumper IRA Outlaw Sprint series will be joining forces with the World of Outlaws Craftsman Sprint Series. The event on Sunday, August 21st takes place during the annual Sweet Corn Festival, will be the Outlaws first ever appearance at the historic, 1/3-mile Angell Park.
The epic gathering is known as the Sun Prairie Sprint Car classic at the third-mile clay oval will feature not only the stars of the IRA sprints but sprint car standouts such as Donny Schatz, the seven-time and defending series champion who leads the way for the World of Outlaws Craftsman Sprint Car Series. David Gravel, who was victorious last month in Wisconsin at Wilmot Raceway is second in points, followed by Brad Sweet, Daryn Pittman and Joey Saldana.
Shane Stewart, who won the opening night of the Knoxville Nationals on August 10, is currently sixth in points, with Jason Johnson seventh, Logan Schuchart eighth, Jason Sides ninth and Paul McMahan 10th.
The IRA Sprints will have the home field advantage for this contest and Scotty Thiel who had captured both IRA Sprint contests at the track this season has proven to be the man to catch on the unique third-mile clay oval.
The Badger Midgets will also be on hand adding to a great night of open-wheeled racing action.
Pit gates will open at 2:00pm with the grandstands opening at 4:00pm. The first cars will hit the track at 6:30pm and racing action is set to get underway at 7:30pm.
Tickets for the Sun Prairie Sprint Car Classic, featuring the World of Outlaws Craftsman Sprint Car Series and Bumper to Bumper IRA Sprint Cars at Angell Park Speedway in Sun Prairie, Wisconsin on Sunday, August 21 can be purchased online at https://slspromotions.ticketforce.com or by phone at 815-344-2023.
For more information on tickets, visit https://slspromotions.ticketforce.com.
For more information on the IRA Outlaw Sprints check out the tour website at www.irasprints.com or by logging onto the series Facebook page at www.facebook.com/irasprints the series is also on twitter at #IRA_sprints.
The IRA Sprints are presented by its long time supporting series partners. The series support is led by title sponsor Bumper to Bumper Auto Parts & Service Centers, and associate series partners Hoosier Tire, Osborn & Son Trucking, TW Metals, Cummins Onan, and Twin Lakes Marine.
BUMPER TO BUMPER INTERSTATE RACING ASSOCIATION
ROGER ILES TRIBUTE 30-LAP FEATURE: 1. Bill Balog, Hartland; 2. Jeremy Schultz, Beaver Dam; 3. Parker Price-Miller, Kokomo, Indiana; 4. Phillip Mock, Pleasant Prairie; 5. Scott Nietzel, Beaver Dam; 6. Todd Daun, Pleasant Prairie; 7. Mike Kertscher, Howards Grove; 8. Matt Vandervere, Beach Park, Illinois; 9. Blake Nimee, Oswego, IL; 10. Mike Reinke, Howards Grove; 11. Kyle Marten, Sheboygan Falls; 12. Raymond Hensley, Trevor; 13. Bill Wirth, Cudahy; 14. Wayne Modjeski, Oak Creek; 15. Ben Schmidt, Plymouth; 16. Russell Borland, Beaver Dam; 17. Scott Thiel, Sheboygan; 18. Scott Uttech, New Berlin; 19. Jereme Schroeder, Lake Villa, IL; 20. Chris Dodd, Winthrop Harbor, IL; 21. Dave Uttech, Kenosha; 22. Brandom Wimmer, Fairmont, IN; 23. Kris Spitz, Salem; 24. Johnny Fahl, Brown Deer.
12-LAP "B" MAIN: 1. Schmidt; 2. Reinke; 3. K. Spitz; 4. D. Uttech; 5. Fahl; 6. Dodd; 7. Dennis Spitz, Lewisburg, Kentucky; 8. Tim Vandervere, Beach Park; 9. Mike Decker, Silver Lake; 10. Zach Raidart, Zion, IL; 11. Jimmy Fifield, Hewitt, IL; 12. Ryan Irwin, Genoa City; 13. Dominic Scelzi, Fresno, California(DNS).
HEAT WINNERS: Wirth; Marten; M. Vandervere.
FAST QUALIFIER: Mock(:13.587 seconds).
Upcoming 2016 Bumper to Bumper IRA Outlaw Sprint Series Events:
8/20/2016 – Wilmot Raceway – Wilmot, WI
8/21/2016 – Angell Park Speedway – Sun Prairie, WI
8/27/2016 – LaSalle Speedway, LaSalle, IL
8/28/2016 – Angell Park Speedway – Sun Prairie, WI
9/2/2016 – Plymouth Dirt Track – Plymouth, WI
9/4/2016 – 141 Speedway – Francis Creek, WI
---
Submitted By: Jeffrey Sachse
Back to News