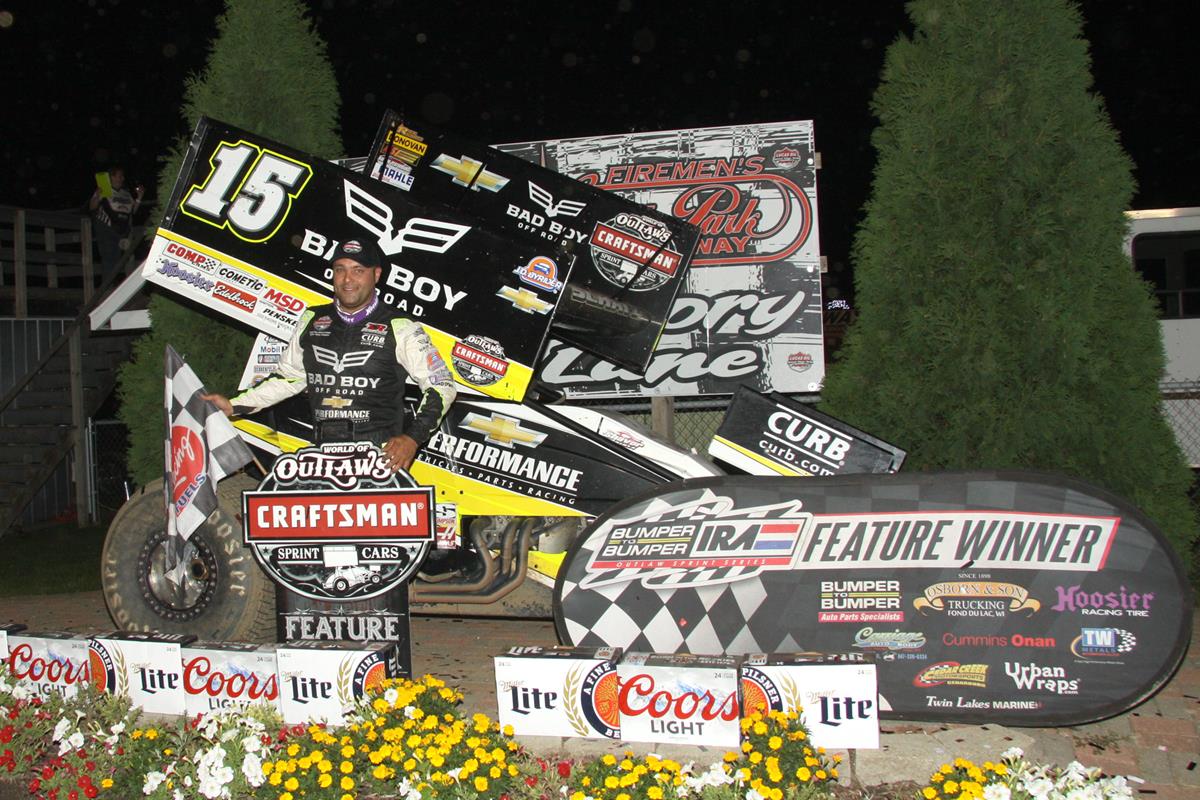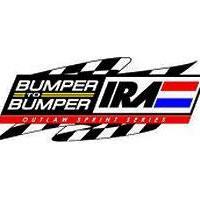 8/22/2016
IRA Interstate Racing Association
---
SCHATZ DOMINATES IRA/WORLD OF OUTLAWS CO-SANCTIONED CONTEST DURING CORNFEST AT ANGELL PARK SPEEDWAY!
SCHATZ DOMINATES IRA/WORLD OF OUTLAWS CO-SANCTIONED CONTEST DURING CORNFEST AT ANGELL PARK SPEEDWAY!
SPRINTFEST MEETS CORNFEST AT ANGELL PARK WITH SCHATZ TAKING VICTORY IN FRONT OF STANDING ROOM ONLY CROWD!
August 21, 2016; Sun Prairie, WI – It would be easy to run out of adjectives to describe just how wildly successful the joint sanctioned contest with the Bumper to Bumper IRA Outlaw Sprints and the Craftsman World of Outlaws was.
You simply had to be at Angell Park Speedway to understand the excitement, anticipation and thrills as the best drivers in open-wheeled racing descended upon the third-mile clay oval.
The show, run on Sunday evening during the Sun Prairie Corn Festival had a carnival-like atmosphere with the main attraction being the thrills only 900 horsepower winged can bring. It resulted in a standing room only crowd.
Donny Schatz from Minot, North Dakota turned in a dominating performance en route to victory in the 40 lap A-main outrunning Daryn Pittman to collect the first place prize of $10,000. Schatz a seven-time series champion and current point leader in the World of Outlaws nearly completed a sweep of the evening's events.
He had started the night setting a new track record blistering around the track in 11.718 seconds. Later he captured his heat race and narrowly missed the sweep by claiming third in the dash an event captured by Pittman who would be the main nemesis of Schatz throughout the evening.
From the IRA standpoint, the tried and true blue collar racers which make up the lifeblood of the series fought valiantly against the World of Outlaws traveling professional racers.
Bumper to Bumper IRA Sprint car teams had earned ten spots in the main event and showcased a race long battle between Mike Reinke, Scotty Neitzel and Bill Balog for bragging rights amongst the IRA series competitors. Reinke, in rim riding fashion, managed to fend off several challenges from Balog to earn an IRA best 12th place finish. Neitzel in the thick of a title hunt worked past a fading Balog late in the race to grab 13th overall and second among the IRA competitors.
Balog, Mike Kertscher, and Jeremy Schultz comprised the top five IRA runners when the checkered flag fell after 40 laps of A-main action.
The 40 lap headliner had it's challenges to get underway.
Pittman who had started on the pole got the jump on Brad Sweet at the drop of the green flag leading the way to the stripe to complete the first circuit, Schatz who began the contest in third rumbled into the second position before the caution flew for Kertscher who came to a halt in turn four. Kertscher's crew made quick repairs to his machine under yellow and he was able to rejoin the contest.
The race resumed with a double-wide restart but before a lap was completed Brandon McMullen jumped the cushion in turn one and tagged the wall resulting in a quick flip. For McMullen, it was an abrupt ending to an otherwise very successful night. Making just his second ever 410 sprint car start McMullen was impressive. The former 360 sprint champ qualified 14th quick among the 37 car field and had raced is way into the big show after a solid performance in his heat race. It was unfortunate his evening ended on lap one in the main event, with a 24th place official finish driving an Ozzie Weisner owned machine.
A single file restart proved successful and the main event continued.
Pittman looked to have the speed in the early going to keep Schatz at bay as the leaders worked through back markers. Sweet continued to hold down the third spot shadowing the lead duo.
On several occasions, Schatz appeared to get a run on Pittman only to be repelled by Pittman's determination.
Amongst the IRA drivers Reinke was having a throwdown battle with Balog, as they, along with Nietzel were working to crack the top ten.
On lap 17, Scotty Thiel slammed the wall coming off turn four. The hard hit resulted in a red flag. Thiel was able to climb from his battered machine unhurt but his evening was done and he finished in the 22nd position.
The green flag returned and the final 23 laps completed without further incident. Schatz however, needed just one more circuit to overhaul Pittman for the top spot as he surged ahead into the lead down the backstretch on lap 18.
Once out front Schatz slowly increased his lead and accepted the checkered flag. Pittman earned the second spot finishing a dozen car lengths behind Schatz. Sweet managed the final podium spot after coming out on top of a spirited battle with David Gravel over the final circuits. Gravel and Logan Schuchart completed the top five.
Earlier in the night the current Bumper to Bumper IRA Outlaw Sprint series point leader Jeremy Schultz captured top honors in B-main to advance to the main event. IRA drivers took three of the four transfer spots with Wayne Modjeski earning second, Greg Wilson third and Kyle Marten fourth.
The final transfer spot came down to a last-lap pass. Ben Schmidt had been running in the fourth positions but had been showing signs of struggling with handling problems in the waning laps. Schmidt suffered a flat tire on the final circuit allowing Marten to slip past for fourth. Schmidt's fifth place finish made him the first alternate for the main event.
Heat race victories were captured by Schatz, Gravel, Shane Stewart and Joey Saldana.
Pittman captured the dash.
Schatz led the 37 car field in qualifying with a record setting 11.718-second tour of the raceway. Stewart's 11.881 was second quick followed by Saldana with 11.926.
32 of the 37 drivers in attendance all qualified within a second of the fastest time set by Schatz.
The Bumper to Bumper IRA Outlaw Sprints continues with a very busy late season schedule. Six events will take place over the next three weeks.
The season continues with the 6th Annual Bill Waite Jr. Memorial at LaSalle Speedway next Saturday night August 27th. The contest will be a jointly sanctioned show with the Midwest Open Wheel Association joining the Bumper to Bumper IRA Outlaw Sprints.
The co-sanctioned format will continue on to Sunday Night, August 28th when an encore show will take place at Angell Park Speedway giving fans back to back weeks of 410 sprint action after a very successful program this week. Fans who have a ticket stub from the World of Outlaws/IRA event will receive an additional $5.00 their admission ticket.
For more information on the IRA Outlaw Sprints check out the tour website at www.irasprints.com or by logging onto the series Facebook page at www.facebook.com/irasprints the series is also on twitter at #IRA_sprints.
The IRA Sprints are presented by its long time supporting series partners. The series support is led by title sponsor Bumper to Bumper Auto Parts & Service Centers, and associate series partners Hoosier Tire, Osborn & Son Trucking, TW Metals, Cummins Onan, and Twin Lakes Marine.
Upcoming 2016 Bumper to Bumper IRA Outlaw Sprint Series Events:
8/21/2016 – Angell Park Speedway – Sun Prairie, WI
8/27/2016 – LaSalle Speedway, LaSalle, IL
8/28/2016 – Angell Park Speedway – Sun Prairie, WI
9/2/2016 – Plymouth Dirt Track – Plymouth, WI
9/4/2016 – 141 Speedway – Francis Creek, WI
410 Sprints | IRA Interstate Racing Association
A-Main - (40 Laps) - 1. 15-Donny Schatz[3][$10,000]; 2. 9-Daryn Pittman[1][$5,500]; 3. 49-Brad Sweet[2][$3,200]; 4. 5-David Gravel[4][$2,800]; 5. 1S-Logan Schuchart[11][$2,500]; 6. 2-Shane Stewart[8][$2,300]; 7. 41-Jason Johnson[7][$2,200]; 8. 83-Joey Saldana[5][$2,100]; 9. 1A-Jacob Allen[10][$2,050]; 10. 7-Paul McMahan[13][$2,000]; 11. 7S-Jason Sides[6][$1,500]; 12. O2-Mike Reinke[15][$1,200]; 13. 2W-Scotty Neitzel[9][$1,100]; 14. 17B-Bill Balog[19][$1,050]; 15. 41X-Dominic Scelzi[20][$1,000]; 16. W20-Greg Wilson[23][$900]; 17. 80K-Mike Kertscher[16][$800]; 18. 5J-Jeremy Schultz[21][$800]; 19. 99-Kyle Marten[24][$800]; 20. 2X-Parker Price-Miller[18][$800]; 21. 65-Jordon Goldesberry[12][$800]; 22. 64-Scotty Thiel[17][$800]; 23. 14AJ-Wayne Modjeski[22][$800]; 24. 73-Brandon McMullen[14][$800]. Lap Leaders: Daryn Pittman 1-17, Donny Schatz 18-40. KSE Hard Charger Award: W20-Greg Wilson[+7].
Qualifying - 1. 15-Donny Schatz, 11.718; 2. 5-David Gravel, 11.812; 3. 2-Shane Stewart, 11.881; 4. 83-Joey Saldana, 11.926; 5. 7-Paul McMahan, 11.977; 6. 9-Daryn Pittman, 12.004; 7. 41-Jason Johnson, 12.016; 8. 7S-Jason Sides, 12.031; 9. 49-Brad Sweet, 12.036; 10. 1A-Jacob Allen, 12.052; 11. 1S-Logan Schuchart, 12.067; 12. 65-Jordon Goldesberry, 12.090; 13. 64-Scotty Thiel, 12.195; 14. 73-Brandon McMullen, 12.208; 15. 17B-Bill Balog, 12.281; 16. 80K-Mike Kertscher, 12.308; 17. 2W-Scotty Neitzel, 12.319; 18. 2X-Parker Price-Miller, 12.331; 19. O2-Mike Reinke, 12.405; 20. 59-Ben Schmidt, 12.426; 21. 5J-Jeremy Schultz, 12.341; 22. 14AJ-Wayne Modjeski, 12.452; 23. 1M-Phillip Mock, 12.465; 24. 41X-Dominic Scelzi, 12.469; 25. W20-Greg Wilson, 12.578; 26. 99-Kyle Marten, 12.623; 27. 68-Dave Uttech, 12.666; 28. 23B-Russell Borland, 12.675; 29. 7U-Scott Uttech, 12.732; 30. 53W-Bill Wirth, 12.751; 31. 12-Mike Decker, 12.772; 32. 4K-Kris Spitz, 12.844; 33. 79-Blake Nimee, 12.944; 34. 13-Clyde Knipp, 12.967; 35. 10V-Matt Vandervere, 13.099; 36. 41D-Dennis Spitz, 13.155; 37. 7V-Tim Vandervere, 13.260
Heat 1 - (10 Laps - Top 5 finishers transfer to the A-feature) - 1. 15-Donny Schatz[1]; 2. 49-Brad Sweet[3]; 3. 2W-Scotty Neitzel[5]; 4. 7-Paul McMahan[2]; 5. 64-Scotty Thiel[4]; 6. 5J-Jeremy Schultz[6]; 7. W20-Greg Wilson[7]; 8. 7U-Scott Uttech[8]; 9. 79-Blake Nimee[9]; 10. 7V-Tim Vandervere[10]
Heat 2 - (10 Laps - Top 5 finishers transfer to the A-feature) - 1. 5-David Gravel[1]; 2. 9-Daryn Pittman[2]; 3. 1A-Jacob Allen[3]; 4. 73-Brandon McMullen[4]; 5. 2X-Parker Price-Miller[5]; 6. 14AJ-Wayne Modjeski[6]; 7. 99-Kyle Marten[7]; 8. 53W-Bill Wirth[8]; 9. 13-Clyde Knipp[9]
Heat 3 - (10 Laps - Top 5 finishers transfer to the A-feature) - 1. 2-Shane Stewart[1]; 2. 41-Jason Johnson[2]; 3. 1S-Logan Schuchart[3]; 4. O2-Mike Reinke[5]; 5. 17B-Bill Balog[4]; 6. 1M-Phillip Mock[6]; 7. 10V-Matt Vandervere[9]; 8. 68-Dave Uttech[7]; 9. 12-Mike Decker[8]
Heat 4 - (10 Laps - Top 5 finishers transfer to the A-feature) - 1. 83-Joey Saldana[1]; 2. 7S-Jason Sides[2]; 3. 65-Jordon Goldesberry[3]; 4. 80K-Mike Kertscher[4]; 5. 41X-Dominic Scelzi[6]; 6. 59-Ben Schmidt[5]; 7. 23B-Russell Borland[7]; 8. 4K-Kris Spitz[8]; 9. 41D-Dennis Spitz[9]
Craftsman Club Dash - (6 Laps, finishing order determined first 8 starting positions of A-feature) - 1. 9-Daryn Pittman[1]; 2. 49-Brad Sweet[2]; 3. 15-Donny Schatz[6]; 4. 5-David Gravel[5]; 5. 83-Joey Saldana[3]; 6. 7S-Jason Sides[8]; 7. 41-Jason Johnson[7]; 8. 2-Shane Stewart[4]
Last Chance Showdown - (12 Laps - Top 4 finishers transfer to the A-feature) - 1. 5J-Jeremy Schultz[2] [-]; 2. 14AJ-Wayne Modjeski[3] [-]; 3. W20-Greg Wilson[5] [-]; 4. 99-Kyle Marten[6] [-]; 5. 59-Ben Schmidt[1] [$300]; 6. 1M-Phillip Mock[4] [$250]; 7. 7U-Scott Uttech[9] [$225]; 8. 79-Blake Nimee[13] [$200]; 9. 23B-Russell Borland[8] [$200]; 10. 13-Clyde Knipp[14] [$200]; 11. 10V-Matt Vandervere[15] [$200]; 12. 53W-Bill Wirth[10] [$200]; 13. 4K-Kris Spitz[12] [$200]; 14. 41D-Dennis Spitz[16] [$200]; 15. 7V-Tim Vandervere[17] [$200]; 16. 68-Dave Uttech[7] [$200]; 17. 12-Mike Decker[11] [$200]
---
Submitted By: Jeffrey Sachse
Back to News