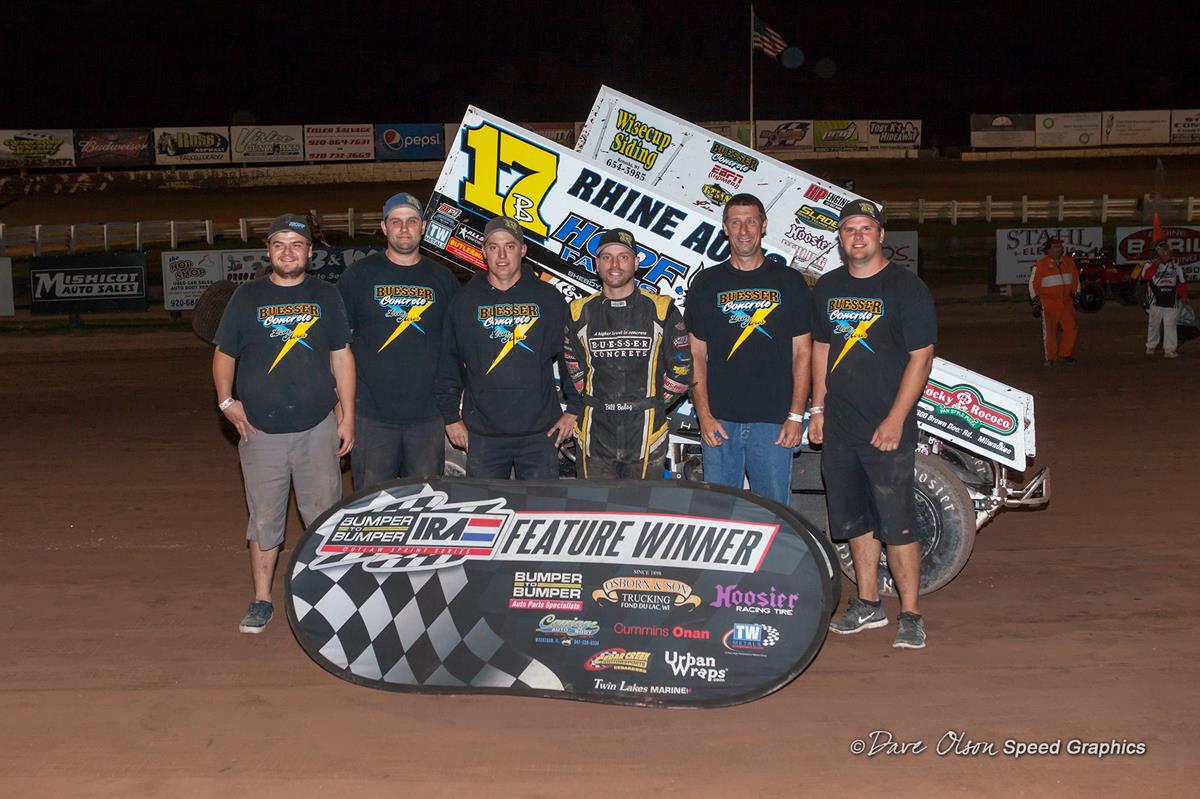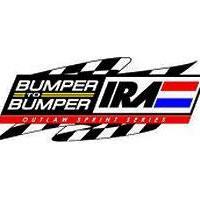 9/6/2016
IRA Interstate Racing Association
---
BALOG OUT DUELS McCARL IN 141 THRILLER
9/4 Francis Creek, WI Bill Balog demonstrated once again why he has been one of the winningest sprint car drivers in the country over the past several years as he ran down a fast Austin McCarl and overtook the young second generation driver en-route to scoring yet another thrilling victory as the Bumper To Bumper IRA Outlaw Sprint Series visited 141 Speedway. McCarl started from the pole and jumped out an immediate lead on a very fast and tacky 141 surface. Fourth starting Balog slid past Mike Reinke and Ben Schmidt and proceeded with his relentless pursuit of McCarl.
The two numbered seventeen machines put on a great show for the lead, while Schmidt, Reinke, and Scotty Thiel battled hard within the top five just a few car lengths behind the lead duo. Another great battle within the top ten waged between title contenders Scotty Neitzel and Jeremy Schultz plus young chargers Blake Nimee, Brandon McMullen, and Kyle Marten.
McCarl struggled with the fourth turn cushion which allowed Balog to dive under him and slid into the lead during the final stages. McCarl tried to battle back but with no avail. Schmidt came home a solid third edging Reinke and Thiel who put on a great battle for fourth. Neitzel, Schultz, Nimee, Marten, and a charging Todd Daun completed a very fast top ten.
Balog set fast time over the 29 car field, with Thiel, Wayne Modjeski, and McMullen winning the heats. Daun captured the B-main.
IRA is supported by Bumper To Bumper Auto Parts & Service Centers, Hoosier, Osborn & Son Trucking, TW Metals, Cummins Onan, and Carriage Auto Body. Schultz leads Thiel and Neitzel in the point chase going into yet another doubleheader weekend with two annual events on tap next, Friday's Northern Nationals at Amsoil Speedway in Superior, and the annual Jerry Richert Memorial at Cedar Lake Saturday.
A Feature 1: Lineup 30 laps Presented by Bumper to Bumper Auto Parts
17B-Bill Balog[4]; 2. 17A-Austin McCarl[1]; 3. 59-Ben Schmidt[3]; 4. 02-Mike Reinke[2]; 5. 64-Scotty Thiel[7]; 6. 2W-Scott Neitzel[10]; 7. 5J-Jeremy Schultz[8]; 8. 79-Blake Nimee[9]; 9. 99-Kyle Marten[13]; 10. 19-Todd Daun[11]; 11. 73-Brandon McMullen[5]; 12. 80K-Mike Kertscher[18]; 13. 95A-Ken Jay Fiedler[15]; 14. 4K-Kris Spitz[20]; 15. 12-Michael Decker[12]; 16. 10V-Matt Vandevere[14]; 17. 7F-Lance Fassbender[22]; 18. 7-Scott Uttech[21]; 19. (DNF) 53W-Bill Wirth[19]; 20. (DNF) 14AJ-Wayne Modjeski[6]; 21. (DNF) 21H-Tim Haddy[23]; 22. (DNF) 95B-Ty Bartz[24]; 23. (DNF) 6K-Kurt Davis[17]; 24. (DNF) 85M-Steve Meyer[16]
B Feature 1 12 laps Presented by Behling Racing Equipment
19-Todd Daun[1]; 2. 4K-Kris Spitz[3]; 3. 7-Scott Uttech[2]; 4. 7F-Lance Fassbender[4]; 5. 21H-Tim Haddy[7]; 6. 95B-Ty Bartz[6]; 7. 41-Dennis Spitz[8]; 8. 7V-Tim Vandervere[5]; 9. 81-Andrew Westphal[9]; 10. 4-Paul Pokorski[10]; 11. 53-Derek Siegel[11]
Heat 1 10 laps Presented by Real Wheels
73-Brandon McMullen[2]; 2. 85M-Steve Meyer[1]; 3. 5J-Jeremy Schultz[4]; 4. 17B-Bill Balog[6]; 5. 17A-Austin McCarl[5]; 6. 12-Michael Decker[3]; 7. 7-Scott Uttech[7]; 8. 21H-Tim Haddy[9]; 9. 7F-Lance Fassbender[8]; 10. 4-Paul Pokorski[10]
Heat 2 10 laps Presented by DMI
14AJ-Wayne Modjeski[3]; 2. 2W-Scott Neitzel[5]; 3. 6K-Kurt Davis[1]; 4. 59-Ben Schmidt[6]; 5. 10V-Matt Vandevere[2]; 6. 53W-Bill Wirth[7]; 7. 19-Todd Daun[4]; 8. 41-Dennis Spitz[9]; 9. 7V-Tim Vandervere[8]; 10. 53-Derek Siegel[10]
Heat 3 10 laps Presented by All Star Performance Products
64-Scotty Thiel[4]; 2. 80K-Mike Kertscher[1]; 3. 99-Kyle Marten[3]; 4. 79-Blake Nimee[5]; 5. 02-Mike Reinke[6]; 6. 95A-Ken Jay Fiedler[2]; 7. 4K-Kris Spitz[7]; 8. 81-Andrew Westphal[9]; 9. 95B-Ty Bartz[8]
Qualifying 1 Presented by Osborn & Son
17B-Bill Balog, 10.833[9]; 2. 59-Ben Schmidt, 10.878[15]; 3. 02-Mike Reinke, 10.890[5]; 4. 17A-Austin McCarl, 10.961[22]; 5. 2W-Scott Neitzel, 10.989[2]; 6. 79-Blake Nimee, 11.004[16]; 7. 5J-Jeremy Schultz, 11.014[24]; 8. 19-Todd Daun, 11.025[3]; 9. 64-Scotty Thiel, 11.135[27]; 10. 12-Michael Decker, 11.139[11]; 11. 14AJ-Wayne Modjeski, 11.149[29]; 12. 99-Kyle Marten, 11.211[23]; 13. 73-Brandon McMullen, 11.215[7]; 14. 10V-Matt Vandevere, 11.231[13]; 15. 95A-Ken Jay Fiedler, 11.346[10]; 16. 85M-Steve Meyer, 11.377[17]; 17. 6K-Kurt Davis, 11.393[1]; 18. 80K-Mike Kertscher, 11.413[25]; 19. 7-Scott Uttech, 11.421[6]; 20. 53W-Bill Wirth, 11.547[28]; 21. 4K-Kris Spitz, 11.690[26]; 22. 7F-Lance Fassbender, 11.780[21]; 23. 7V-Tim Vandervere, 11.789[4]; 24. 95B-Ty Bartz, 11.893[18]; 25. 21H-Tim Haddy, 11.909[8]; 26. 41-Dennis Spitz, 11.951[19]; 27. 81-Andrew Westphal, 12.064[14]; 28. 4-Paul Pokorski, 12.288[20]; 29. 53-Derek Siegel, 12.420[12]
---
Article Credit: Steve Sinclair
Submitted By: Kim Tennyson
Article Media
Back to News