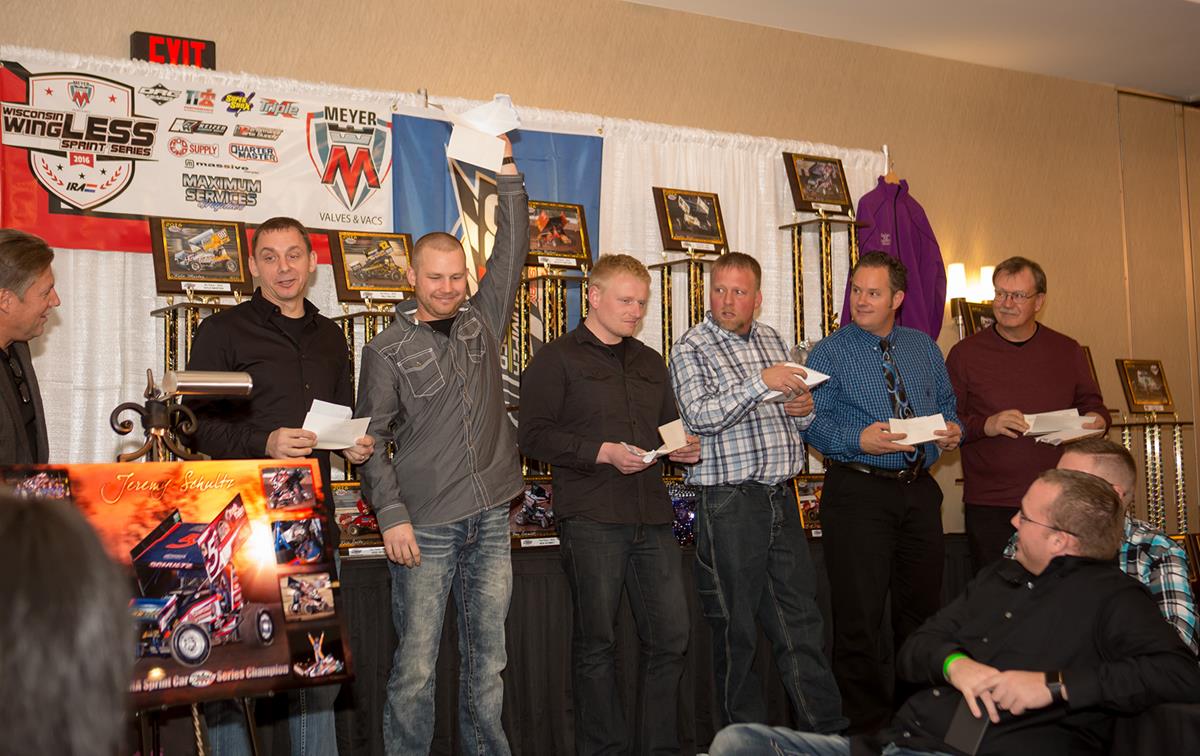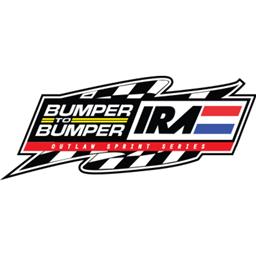 11/21/2016
IRA Interstate Racing Association
---
IRA Banquet 2016
Brookfield, WI The Interstate Racing Association concluded their 50th anniversary season by combining the accomplishments of the established Bumper To Bumper IRA Outlaw Sprint Series, and their upstart Meyer Valves & Vacs Wisconsin wingLESS Sprint Series this past Saturday at the Embassy Suites in Brookfield, Wisconsin. A packed main ballroom greeted the honorees for the festivities emceed by the comedic and talented Ray Underwood.
Jeff Fischer of Grandstand Video opened the program with a wonderfully done video showing IRA's humble beginnings fifty years ago, to how and where the series is now, showing a cast of characters that helped form the IRA.
Jeremy Schultz was honored as Bumper To Bumper IRA Outlaw Sprints Champion. In 29 starts Schultz scored a pair of A-main wins, 17 top 5's, and 22 top 10's. Schultz, a former IRA Rookie of the Year also won his 3rd Wilmot Raceway 410 Sprint title this season, and who is a former MSA 360 Champion, piloted his #5j Maxim supported by his father Jerry Schultz, with talented a crew led by chassisman Dan Nesper and engine tuner Dave Ranthum. It's a true family operation as Jeremy's brothers Jason & Cory are big pieces of the crew. In addition to the $10,300 champion's check Schultz went home with a new Maxim chassis, a set of All Pro cylinder head castings, a Walker air filter system, an incredible original metal photo by Dave Olson of Studio 360, and much more.
Scotty Thiel came home just 80 points behind to finish in the runnerup slot over perennial IRA title contender Scotty Neitzel, with Bill Balog, and Kyle Marten completing the top 5.
Balog, who led the series with 11 wins, and 8 Osborn & Son Trucking Fast Times was presented a special award by Larry Hillerud of SLS Promotions, a custom laser cut trophy for his inaugural World of Outlaw series win, the first ever by a IRA driver, which came back in June at Beaver Dam Raceway.
7th place finishing Matt Vandervere was named the Carriage Auto Body Most Improved Driver on th 410 side. Ranthum the Mechanix Wear Mechanic of the Year Award, while Thiel's #64 edged the Cowman/Reinke #02 for Best Appearing Car honors. Long time series supporter Ken Iles of Carriage Auto Body received the 410 IRA Dedication Award.
Todd Lehr captured the Meyer Valves & Vacs Wisconsin wingLESS Sprint Series title and did so in dominating fashion picking up 7 A-main wins and setting 9 fast times in just 16 events. Lehr credited much of his success to the efforts of crew chief Tony Jenkins. 2016 marked the second season overall for the series which is anchored at Wilmot Raceway, but the first under IRA sanction.
Lehr topped inaugural series champ Doug Schenck, rookie sensation Derek Crane, with Alan Hafford, and Mike Sullivan completing the top five. Crane who captured 3 series wins was named Rookie of the Year, while James Walldan the Most Improved Driver honors. Greg Buric of Wm. M. Meyer & Sons was honored with the series Dedication Award.
The father & son duo of Tom & Gared Tennyson who handle the souvenir side for IRA were honored as co-recipients of the annual Rick Schmidt Memorial IRA Member of the Year Award.
Kyle Marten also won a Maxim chassis as all 26 teams eligible teams were present and all shared in the contingency portion of the program which featured great support from so many companies. Thanks to Behling's, HRP, Lane, R&H, Velocity for their gracious assistance with that program.
IRA SecretaryTreasuer Kim Tennyson honored IRA President Steve Sinclair with a personalized bottle of Gentleman Jack for his 24 years heading up the IRA.
The night was a memorable one, and many special thanks go to the entire Tennyson family, and Tiffany Taylor for their tireless efforts in creating a special event.
IRA would like to thank long time series sponsor Bumper To Bumper Auto Parts & Service Centers, Osborn & Son Trucking, Hoosier Tire, TW Metals, Cummins Onan, Carriage Auto Body, and Wm. M. Meyer & Sons for their support.
Bumper To Bumper Outlaw Sprint Series 75% Point Fund eligible team point standings.
Jeremy Schultz 2. Scotty Thiel 3. Scotty Neitzel 4. Bill Balog 5. Kyle Marten 6. Blake Nimee 7. Matt Vandervere 8. Mike Reinke 9. Wayne Modjeski 10. Scott Uttech 11. Ben Schmidt 12. Dennis Spitz 13. Kris Spitz 14. Steve Meyer 15. Russel Borland 16. Bill Wirth 17. Mike Decker
Meyer Valves & Vacs Wisconsin wingLESS Sprint Series, eligible team point standings.
Todd Lehr 2. Doug Schenck 3. Derek Crane 4. Alan Hafford 5. Mike Sullivan 6. Chris Klemko 7. James Walldan 8. George Gaertner Jr 9. Dan Wade
---
Article Credit: Steve Sinclair
Submitted By: Kim Tennyson
Article Media
Back to News