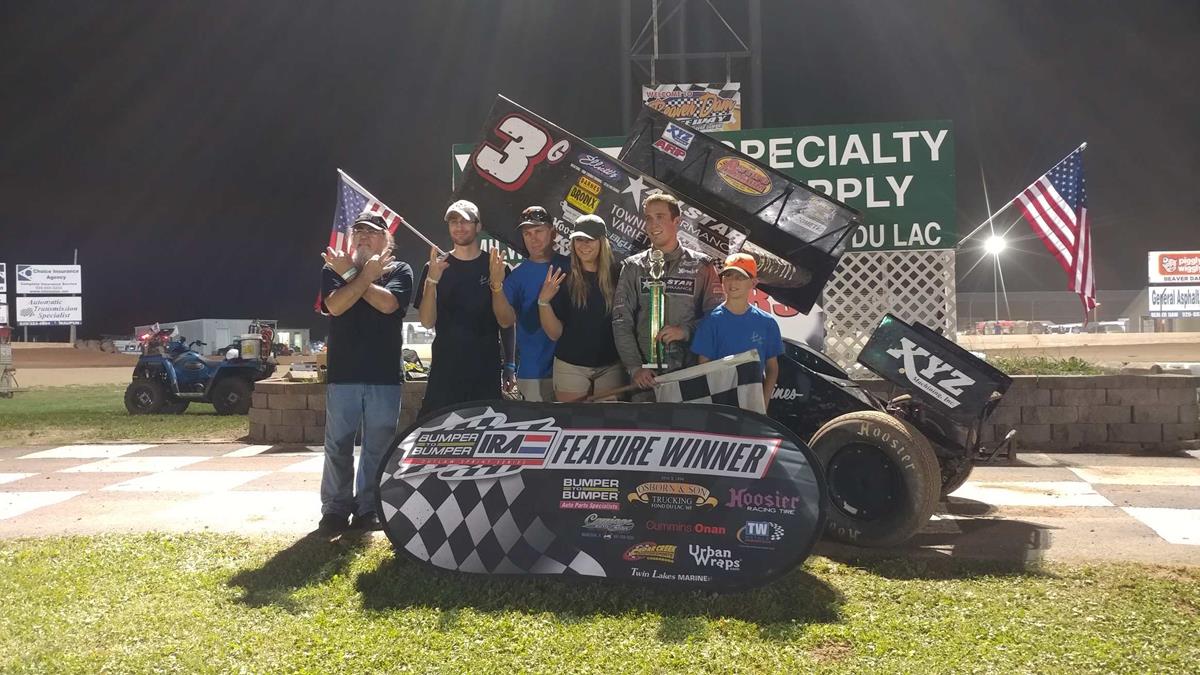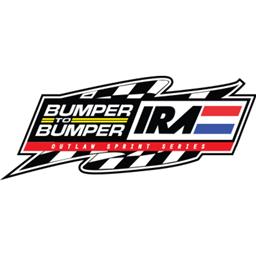 9/26/2017
IRA Interstate Racing Association
---
Macedo Wins Beaver Dam
A huge field of 39 Bumper to Bumper Interstate Racing Association(IRA) teams signed in to compete in the 3rd annual Scott Semmelman Memorial at the Beaver Dam Raceway. Osborn and Son Trucking Qualifying saw California hot shoe Carson Macedo set quick time over Scotty Neitzel and Bill Balog. Jordan Goldesberry would time in 4th quick followed by Australian Brooke Tatnell.
Weld Wheels Heat Race 1 saw the Californian Carson Macedo charge from his 4th starting position up to the lead. Macedo would claim the victory over Brooke Tatnell and Ben Schmidt. Steve Meyer would bring his 85m machine home in 4th followed by Kyle Martin in the 99.
In Allstar Performance Heat Race 2 Scotty Thiel jumped out from his outside front row starting position to the lead, and led all 10 circuits around the Beaver Dam Raceway in route to the heat win. Scotty Neitzel would bring his orange 2w car across the line in 2nd followed by Knoxville regular Dusty Zomer. Billy Haffemann would bring the Cab Contruction 7r machine home in 4th with Scott Uttech rounding out the top 5.
DMI Heat Race 3 would be won by 7th quick qualifier, Justin Henderson behind the wheel of the Thone Motorsports 83 car. Matt Vandervere would cross the line in 2nd ahead of the now 100 time IRA feature winner Bill Balog. Bill Wirth would bring his 53w home in 4th and 5th would be claimed by Mike Reinke behind the wheel of the Darrel Dodd owned 11.
R&H Enterprises Heat Race 4 saw defending champion Jeremy Schultz best the field and claim the victory over Illinois' Jake Blackhurst and Wayne Modjeski. Jordan Goldesberry would take 4th place honors with Jereme Schroeder bringing his black and pink 43 car across in 5th.
The Behling Racing Equipment B main would be claimed by Aurora Illinois' Blake Nimee piloting the Woodcrafters 79. Dave Uttech and Trey Datweiler would follow Nimee across the line. Josh Walter would bring his 12w home in 4th and Brandon McMullen would claim 5th behind the wheel of the Bob Hood owned 10w.
The A main saw Justin Henderson grab the early lead. With 5 laps complete the field would be brought to a stop under red flag conditions for the 10v of Matt Vandervere getting upside down, the driver was ok. Henderson would lead Ben Schmidt and Dusty Zomer back to green. With 16 laps to go the field was once again stopped, this time for Blake Nimee's 79 and Kyle Martin's 99. This time Henderson would lead Zomer and Carson Macedo back to the green. But before the green flag was waved Henderson would be forced to bring his 83 to the work area with a flat tire, relinquishing the lead to Zomer. In the final laps of the race Macedo would work his 3G machine past Zomer and complete a clean sweep of the night. Bill Balog would cross the line in 2nd place followed by Jeremy Schultz and Scotty Thiel. Zomer would settle for a 5th place finish.
The IRA would like to thank our wonderful sponsors, Bumper to Bumper Auto Parts, Osborn and Son Trucking, TW Metals, Carriage Auto Body, Cummins Onan, Hopf Farms, Hagar's Half Pound Cookies and Hoosier Tire.
A Feature 1 30 laps
3G-Carson Macedo, [8]; 2. 17B-Bill Balog, [3]; 3. 5J-Jeremy Schultz, [5]; 4. 64-Scotty Thiel, [10]; 5. 82-Dusty Zomer, [2]; 6. 83-Justin Henderson, [4]; 7. 2W-Scott Neitzel, [7]; 8. 65-Jordan Goldesberry, [6]; 9. 55-Brooke Tatnell, [9]; 10. 73-Ben Schmidt, [1]; 11. 85M-Steve Meyer, [14]; 12. 25-Jake Blackhurst, [12]; 13. 7R-Billy Hafemann, [16]; 14. 11-Mike Reinke, [19]; 15. 14AJ-Wayne Modjeski, [13]; 16. 12W-Josh Walter, [24]; 17. 43-Jereme Schroeder, [17]; 18. 99-Kyle Marten, [18]; 19. 53W-Bill Wirth, [15]; 20. 79-Blake Nimee, [21]; 21. 23D-Trey Datweiler, [23]; 22. 68-Dave Uttech, [22]; 23. 10V-Matt Vandevere, [11]; 24. 7-Scott Uttech, [20]
B Feature 1 15 laps
79-Blake Nimee, [2]; 2. 68-Dave Uttech, [1]; 3. 23D-Trey Datweiler, [7]; 4. 12W-Josh Walter, [5]; 5. 10W-Brandon McMullen, [12]; 6. 11X-Tony Wondra, [6]; 7. 23-Russel Borland, [17]; 8. 4K-Kris Spitz, [9]; 9. 41-Dennis Spitz, [4]; 10. 5-Bryon Walters, [11]; 11. 0-John Fahl, [10]; 12. 18-Keith Fellner, [14]; 13. (DNF) 78E-Kevin Eltz, [13]; 14. (DNF) 12-Michael Decker, [8]; 15. (DNF) 21H-Tim Haddy, [16]; 16. (DNF) 25X-Danny Schlafer, [3]; (DNS) 65D-Austin Deblauw, ; (DNS) 22-Todd King, ; (DNS) 19-Todd Daun,
Heat 1 10 laps
3G-Carson Macedo, [4]; 2. 55-Brooke Tatnell, [3]; 3. 73-Ben Schmidt, [2]; 4. 85M-Steve Meyer, [1]; 5. 99-Kyle Marten, [5]; 6. 12W-Josh Walter, [8]; 7. 68-Dave Uttech, [6]; 8. 10W-Brandon McMullen, [9]; 9. (DNF) 65D-Austin Deblauw, [10]; (DNS) 23-Russel Borland,
Heat 2 10 laps
64-Scotty Thiel, [2]; 2. 2W-Scott Neitzel, [4]; 3. 82-Dusty Zomer, [3]; 4. 7R-Billy Hafemann, [5]; 5. 7-Scott Uttech, [7]; 6. 11X-Tony Wondra, [9]; 7. (DNF) 12-Michael Decker, [6]; 8. (DNF) 22-Todd King, [1]; 9. (DNF) 21H-Tim Haddy, [8]; (DNS) 79-Blake Nimee,
Heat 3 10 laps
83-Justin Henderson, [3]; 2. 10V-Matt Vandevere, [2]; 3. 17B-Bill Balog, [4]; 4. 53W-Bill Wirth, [1]; 5. 11-Mike Reinke, [5]; 6. 25X-Danny Schlafer, [6]; 7. 23D-Trey Datweiler, [7]; 8. 5-Bryon Walters, [8]; 9. 78E-Kevin Eltz, [9]; (DNS) 19-Todd Daun,
Heat 4 10 laps
5J-Jeremy Schultz, [3]; 2. 25-Jake Blackhurst, [1]; 3. 14AJ-Wayne Modjeski, [5]; 4. 65-Jordan Goldesberry, [4]; 5. 43-Jereme Schroeder, [2]; 6. 41-Dennis Spitz, [6]; 7. 4K-Kris Spitz, [8]; 8. 0-John Fahl, [7]; 9. 18-Keith Fellner, [9]
Qualifying 1
3G-Carson Macedo, 00:11.643[25]; 2. 2W-Scott Neitzel, 00:11.903[1]; 3. 17B-Bill Balog, 00:11.926[33]; 4. 65-Jordan Goldesberry, 00:12.012[30]; 5. 55-Brooke Tatnell, 00:12.048[3]; 6. 82-Dusty Zomer, 00:12.074[22]; 7. 83-Justin Henderson, 00:12.075[11]; 8. 5J-Jeremy Schultz, 00:12.095[6]; 9. 73-Ben Schmidt, 00:12.110[28]; 10. 64-Scotty Thiel, 00:12.178[36]; 11. 10V-Matt Vandevere, 00:12.180[9]; 12. 43-Jereme Schroeder, 00:12.358[2]; 13. 85M-Steve Meyer, 00:12.361[17]; 14. 22-Todd King, 00:12.421[16]; 15. 53W-Bill Wirth, 00:12.443[35]; 16. 25-Jake Blackhurst, 00:12.460[4]; 17. 99-Kyle Marten, 00:12.500[18]; 18. 7R-Billy Hafemann, 00:12.533[23]; 19. 11-Mike Reinke, 00:12.590[15]; 20. 14AJ-Wayne Modjeski, 00:12.616[32]; 21. 68-Dave Uttech, 00:12.637[19]; 22. 79-Blake Nimee, 00:12.671[26]; 23. 25X-Danny Schlafer, 00:12.708[29]; 24. 23-Russel Borland, 00:12.720[8]; 25. 7-Scott Uttech, 00:12.748[10]; 26. 23D-Trey Datweiler, 00:12.778[34]; 27. 0-John Fahl, 00:12.788[21]; 28. 12W-Josh Walter, 00:12.798[14]; 29. 12-Michael Decker, 00:12.843[7]; 30. 5-Bryon Walters, 00:12.929[39]; 31. 4K-Kris Spitz, 00:13.049[20]; 32. 10W-Brandon McMullen, 00:13.123[13]; 33. 11X-Tony Wondra, 00:13.235[27]; 34. 78E-Kevin Eltz, 00:13.493[37]; 35. 18-Keith Fellner, 00:13.519[12]; 36. 65D-Austin Deblauw, 00:13.532[38]; 37. 21H-Tim Haddy, 00:13.707[31]; 38. 41-Dennis Spitz, [5]; (DNS) 19-Todd Daun,
9/25/2017 9:12PM CSTMyRacePassPowered by MyRacePass
Media Results for 9/23/17 - Beaver Dam Raceway - Beaver Dam, WI
WingLESS Sprints
A Feature 1 20 laps
21-Ryan Zielski, [1]; 2. 2-Jordan Mattson, [6]; 3. 6-Jake Kouba, [2]; 4. 18-Nick Petska, [3]; 5. 91S-Jimmy Sivia, [7]; 6. 97-Nathan Crane, [10]; 7. 91-Derek Crane, [16]; 8. 2K-Jimmy Kouba, [17]; 9. 38-Allen Hafford, [5]; 10. 71S-Doug Schenck, [8]; 11. 29-Randy Stanford, [9]; 12. 52-Craig Lager, [13]; 13. 54-Scott Grissom, [11]; 14. 12-Shawn Swim, [14]; 15. 96.5-Rod Colburn, [12]; 16. (DNF) 32-Jeremy Hunt, [18]; 17. (DNF) 77-James Walldan, [20]; 18. (DNF) 48-Tim Cox, [4]; 19. (DNF) 20-Natalie Klemko, [19]; 20. (DNF) 70-Chris Klemko, [15]
B Feature 1 10 laps
91-Derek Crane, [2]; 2. 2K-Jimmy Kouba, [5]; 3. 32-Jeremy Hunt, [7]; 4. 20-Natalie Klemko, [10]; 5. 77-James Walldan, [4]; 6. 15-Dan Wade, [3]; 7. 22-Andy Hunt, [6]; 8. 9-Greg Olsen, [9]; (DNS) 7S-Craig Campton, ; (DNS) 29OG-Tom Eller, ; (DNS) 26T-Tyler Tischendorf,
Heat 1 8 laps
18-Nick Petska, [2]; 2. 38-Allen Hafford, [3]; 3. 71S-Doug Schenck, [4]; 4. 54-Scott Grissom, [5]; 5. 70-Chris Klemko, [7]; 6. 77-James Walldan, [6]; 7. 91-Derek Crane, [1]; 8. 29OG-Tom Eller, [8]; 9. 20-Natalie Klemko, [9]
Heat 2 8 laps
6-Jake Kouba, [2]; 2. 97-Nathan Crane, [1]; 3. 91S-Jimmy Sivia, [4]; 4. 96.5-Rod Colburn, [5]; 5. 52-Craig Lager, [6]; 6. 2K-Jimmy Kouba, [8]; 7. 22-Andy Hunt, [7]; 8. (DNF) 7S-Craig Campton, [3]; 9. (DNF) 26T-Tyler Tischendorf, [9]
Heat 3 8 laps
21-Ryan Zielski, [2]; 2. 2-Jordan Mattson, [4]; 3. 48-Tim Cox, [3]; 4. 29-Randy Stanford, [1]; 5. 12-Shawn Swim, [6]; 6. 15-Dan Wade, [5]; 7. 32-Jeremy Hunt, [7]; 8. 9-Greg Olsen, [8]
Qualifying 1
71S-Doug Schenck, 00:14.444[2]; 2. 91S-Jimmy Sivia, 00:14.455[9]; 3. 2-Jordan Mattson, 00:14.618[1]; 4. 38-Allen Hafford, 00:14.687[4]; 5. 7S-Craig Campton, 00:14.765[14]; 6. 48-Tim Cox, 00:14.772[3]; 7. 18-Nick Petska, 00:14.831[12]; 8. 6-Jake Kouba, 00:14.878[20]; 9. 21-Ryan Zielski, 00:14.882[15]; 10. 91-Derek Crane, 00:14.885[5]; 11. 97-Nathan Crane, 00:14.920[7]; 12. 29-Randy Stanford, 00:15.015[16]; 13. 54-Scott Grissom, 00:15.078[18]; 14. 96.5-Rod Colburn, 00:15.136[8]; 15. 15-Dan Wade, 00:15.174[10]; 16. 77-James Walldan, 00:15.174[11]; 17. 52-Craig Lager, 00:15.178[21]; 18. 12-Shawn Swim, 00:15.182[17]; 19. 70-Chris Klemko, 00:15.191[6]; 20. 22-Andy Hunt, 00:15.324[25]; 21. 32-Jeremy Hunt, 00:15.535[24]; 22. 29OG-Tom Eller, 00:15.643[23]; 23. 2K-Jimmy Kouba, 00:15.891[19]; 24. 9-Greg Olsen, 00:15.912[26]; 25. 20-Natalie Klemko, 00:15.972[13]; 26. 26T-Tyler Tischendorf, 00:16.036[22]
---
Submitted By: Kim Tennyson
Article Media
Back to News