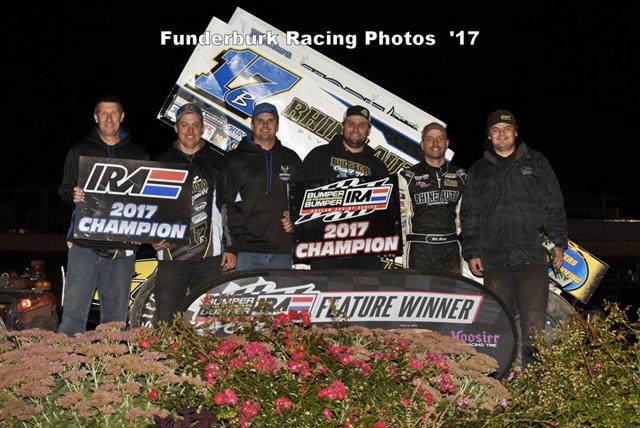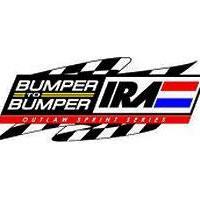 10/1/2017
IRA Interstate Racing Association
---
Balog Claims 8th Bumper to Bumper IRA Championship
31 winged 410 Bumper to Bumper Interstate Racing Association (IRA) teams signed in for action on championship night at The Plymouth Dirt Track. Osborn and Son Trucking Qualifying saw former Plymouth Dirt Track regular Scotty Thiel set quick time over Ben Schmidt after spinning out on the first lap of qualifying. Behind Schmidt would be a pair of IRA champions, Jeremy Schultz and Bill Balog. Former IRA rookie of the year Todd King would time in 5th.
Weld Wheels Heat Race 1 saw a trio of Plymouth Dirt Track regulars turned IRA front runners duke it out for the win. Kyle Marten led from the outset with Jeremy Schultz and Scotty Thiel battling hard behind him, Thiel would eventually work his way past Schultz and set his sights on Marten. In the closing laps Thiel would use the cushion to power past the 99 of Marten and grab the win. Schultz and Marten would finish 2nd and 3rd respectively. Hometown favorite Steve Meyer would bring his 85m home 4th with Blake Nimee in 5th.
Allstar Performance Heat Race 2 would be claimed by 2007 IRA Rookie of the Year Billy Hafemann in the Cab Construction 7r. Ben Schmidt would bring the Oz Motorsports 73 across in 2nd followed by Trey Datweiler and Kris Spitz. Mike Reinke would bring his 02 home in the 5th position.
DMI Racing/R&H Enterprises Heat Race 3 would be dominated by a pair of former IRA champions, as Scotty Neitzel led all 10 laps in route to victory over the soon to be crowned 8 time IRA champion Bill Balog. Justin Henderson would bring Brandon Thone's 83 across the finish line in 3rd followed by Brandon McMullen and Bill Wirth.
The Behling Racing Equipment B main would see Todd King take the early lead but Dave Uttech would not lay down, and challenged King every lap for the lead. As the checkers waved it would be King's Gibsville Cheese 22 victorious over Dave Uttech and Kurt Davis. Scott Uttech would bring his Blue 7 across in 4th and Bryon Walters would round out the top 5.
A main action would be exciting as Brandon McMullen would take the early lead over Billy Hafemann. The yellow would fly just 1 lap in as Steve Meyer had looped his 85m around on the back stretch. As the field paced under yellow it became apparent that Bill Balog had already moved from his 10th starting position to 6th. McMullen would once again lead the field for a single lap before the yellow once again flew for a pair of cars tangled in turn 2. This time McMullen would lead Justin Henderson back to green. A long green flag run would see Henderson work past McMullen. With 6 laps complete Balog had worked his way into 2nd and was chasing Henderson down. As Henderson tiptoed through lapped traffic Balog would use the lapped car of Dave Uttech as a pick to get past the Hopf Farms backed 83 of Henderson on lap 12. With 7 laps to go the yellow lights would once again flash on around the 1/3rd mile oval for the 7r of Billy Hafemann who had spun in turn 2. Balog would lead Henderson and Thiel back to the green flag. The last 7 laps would run caution free, and the 2017 IRA champion Bill Balog would claim the win. Henderson and Thiel would complete the podium. The 4th position would be highly contested in the closing laps as Schultz and Scotty Neitzel traded the spot multiple times, but Schultz would nab the 4th position and Neitzel would be forced to settle for 5th.
---
Submitted By: Kim Tennyson
Back to News