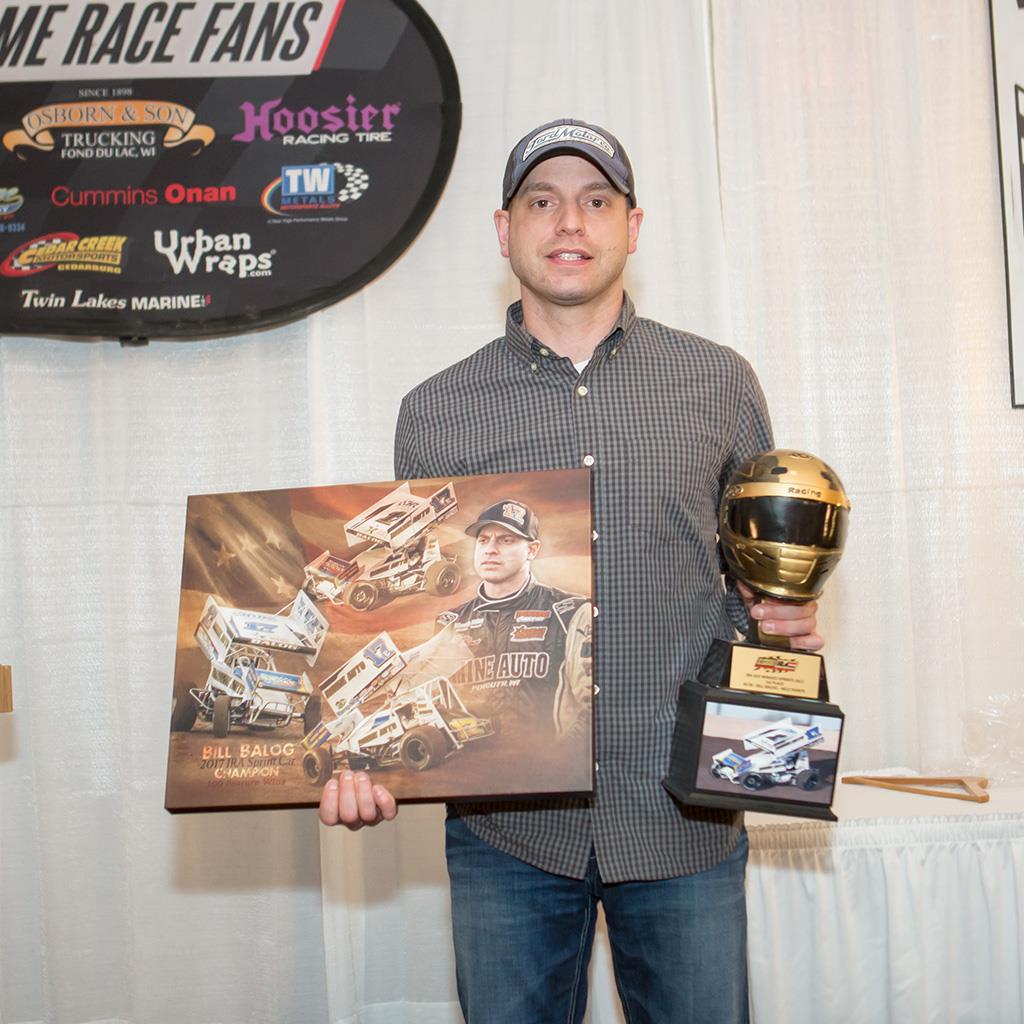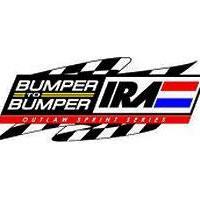 11/20/2017
IRA Interstate Racing Association
---
2017 IRA Awards Banquet
BALOG AND MATTSON TOP HONOREES AT IRA AWARDS PARTY
11/18 Brookfield, WI… The ballroom at the Embassy Suites Brookfield/Milwaukee was jammed Saturday for the 51st annual Interstate Racing Association (IRA) Awards Banquet. This year's party was a combined affair honoring both the Bumper To Bumper IRA Outlaw Sprint Series and the Wisconsin wingLESS Sprint Series presented by the IRA. Twenty-eight teams met point fund eligibility requirements, thus receiving cash, contingency product, and hardware.
Bill Balog, piloting the Mike Urner/Rhine Auto Maxim #17B, dominated every category enroute to claiming his 8th series title. Balog won 12 of the 30 A-main events, including scoring his 100th and 101st IRA feature victories in the process. Balog, and car owner Urner, split the $10,000 first place banquet award, plus an additional $500 bonus for competing in 100% of the series scheduled events (as received by all eligible 100% 410 teams). The duo received contingency certificates, including substantial product awards from DMI and Wilwood. The 2017 schedule took the 410/winged group to 15 different venues within the 3 state region of WI, IL, and IA.
Jordan Mattson topped fellow competitors Doug Schenck and Tim Cox in the Wisconsin wingLESS Sprint Series title chase which went down to the final checkered flag of the season. Mattson captured 2 A-main wins on his way to scoring his first series title, in a division which IRA proudly boasts as one of the biggest success stories in the sprint car industry this year, as its' quality and quantity has exploded in a positive manner over its first 3 years of existence. Mattson steered the Hans Lein owned #2 to a popular championship. While Wilmot Raceway is home base for this division, the wingLESS group completed 19 events contested at 5 Wisconsin facilities.
Both IRA champs also received custom painted artwork from Dave Olson of Studio 360 and Hoosier champion's jackets, in addition to their unique hardware.
IRA President, (since 1994), Steve Sinclair addressed the gathering thanking his outstanding staff for their dedication and loyalty, and expressing to the teams how special and proud they should be for their accomplishments with IRA, which over time has become a significant regional player within the industry.
Sinclair then presented numerous special awards. Fred Ebler who has been part of the IRA for over 25 years, as a past owner/driver and now an official, was the 2017 recipient of the prestigious Rick Schmidt Memorial IRA Member of the Year Award. Dedication Awards were presented to the Father & Son team of Bill and Wayne Modjeski, and to Dennis Spitz who has continued to compete with the series for close to a 30 year span. Spitz also held the IRA Presidency back in the late 80's. Series Appreciation Awards were handed out to banquet emcee and the voice of the IRA, Ray Underwood, whose unique talents have helped make an IRA event more than just a race. Additionally both Ken Iles of Carriage Auto Body, and Dean & Stacy Hopf from Hopf Farms were both presented Appreciation Awards, not just for their sponsor support of IRA, but in appreciation for all they do to help numerous IRA teams and the entire local racing community. Scotty Neitzel received a photo commemorating his family's long time support of IRA and that of the 1st annual Harry Neitzel Tribute Race.
Rod Colburn was named wingLESS Rookie of the Year, while 2nd year driver Nathan Crane was recognized as that series Most Improved Driver. Scotty Thiel won 4 winged/410 A-mains this season, and has won several others over the past few years, but in 2017 he demonstrated he wasn't just a good driver, he became a "really" good driver thus being named that divisions Most Improved.
The wingLESS Best Appearing Car Award was presented by Jeff Burba of Jeff Burba Photography (JBP) and went to Natalie Klemko's #20. Dave Olson's Studio 360 Best Appearing winged car went to Russel Borland's #23.
Jeff Fischer and "Video Dave" Lazansky combined to provide the action used in this year's Grandstand Video produced music video which is always a big part of the evening.
Each team also received numerous certificates in their point fund packets, one example is that the top 10 in each division were provided a certificate good for a Quarter Master gear set.
The popular IRA Product Drawing is a great way to enhance an already solid point fund, and each of the eligible teams in their respective division has an equal opportunity to reap the benefits of product prize packages as they choose the package they go home with, and the order selection is based upon a random draw as to who goes first and so on. Some examples of these awards and packages include; Kris Spitz and Scotty Neitzel both won 2018 Maxim chassis. Scott Uttech won a set of All Pro cylinder head castings. Dennis Spitz, Steve Meyer, and Scott Uttech all won HRP wing combos. Wayne Modjeski and Allen Hafford each won a FREE lease program for the 2018 season from Super Shox. Mike Decker won a Velocity wing combo and a KSE power steering pump, and Kris Spitz a pair of Weld wheels and hubs. Jimmy Sivia and Blake Nimee took home product from Eagle. Scotty Thiel, Chris Klemko, and Jordan Mattson grabbed product from Triple X. Dave Uttech won a complete front-end assembly courtesy of R&H Enterprises, and Dan Wade took Race Quip and PEM merchandise courtesy of Behling Racing Equipment. And etc, etc, ……. Every team went home a winner!
Kyle Crane and Matt Flynn were the respective All Star Performance Mechanics of the Year.
The very generous Hagar Nelson and Dean Hopf threw in extra dollars, for no other reason other than to help some more racers out because that's the kind of special people they are. So 5 teams went home with extra random cash based upon these two gentleman's generosity, awesome!
14 teams from each division met participation requirements.
The top 14 in Bumper To Bumper IRA Outlaw Sprint Series points were; Bill Balog, Scotty Thiel, Scotty Neitzel, Jeremy Schultz, Kyle Marten, Steve Meyer, Wayne Modjeski, Dave Uttech, Kris Spitz, Blake Nimee, Russel Borland, Dennis Spitz, Scott Uttech, and Mike Decker.
The top 14 in the Wisconsin wingLESS Sprint Series presented by IRA points are; Jordan Mattson, Doug Schenck, Tim Cox, Allen Hafford, Derek Crane, Chris Klemko, Nathan Crane, Jimmy Sivia, Rod Colburn, George Gaertner Jr, Dan Wade, Nick Petska, Natalie Klemko, and James Walldan.
Special Thanks to Kim Tennyson and the entire Tennyson family, Tiffany Taylor, and recent Southeastern WI Short Track Hall of Fame inductee Gil Radtke for setting up the banquet. Ray Underwood for his comedic and sincere delivery which keeps the room alive, Jeff Fischer for his tremendous editing abilities, Dave Olson for his great artwork, Beth Meyer of Beth Meyer Designs for providing the evening's programs, and to all the companies who donated product and certificates to our product drawing.
Very special thanks to our point fund contributors and sponsors…. Bumper To Bumper Auto Parts & Service Centers, Hoosier Tire, Osborn & Son Trucking, TW Metals, Cummins Onan, and Carriage Auto Body.
Thanks to all for their support of the Interstate Racing Association in 2017.
---
Submitted By: Kim Tennyson
Back to News