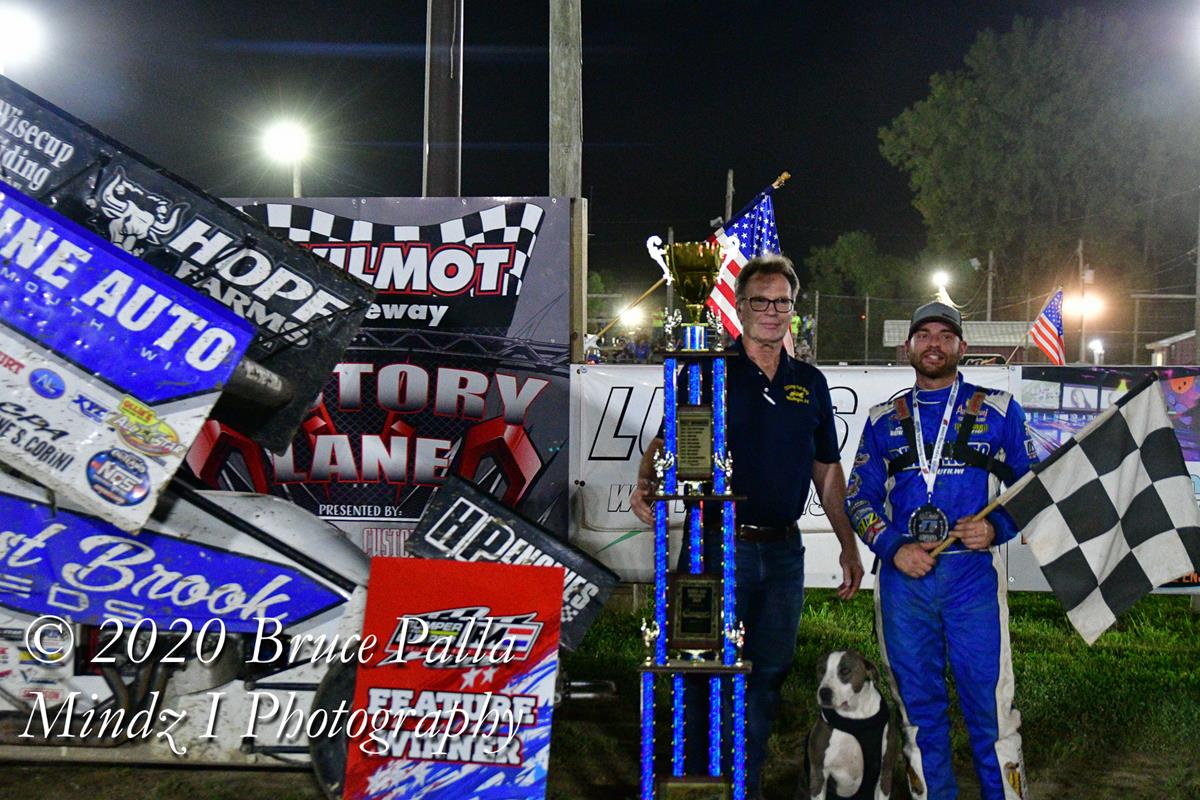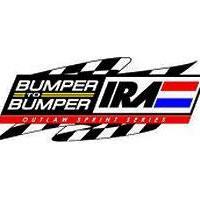 8/24/2020
IRA Interstate Racing Association
---
Balog Wins Roger Iles Tribute
After doing battle with Tony Stewart's All Star Circuit of Champions on Friday night, the Bumper to Bumper Interstate Racing Association sprint cars returned to the Wilmot Raceway for the 36 lap Roger Iles Tribute. Mike Reinke set quick time in Osborn and Son Trucking qualifications behind the wheel of the Bob Hood owned 10w. Blake Nimee after an impressive performance on Friday night was second quick over Jake Blackhurst, Todd Daun and Jeremy Schultz.
Heat race one saw Reinke charge from the fourth starting position to the lead, picking up the win. Behind him Scotty Thiel piloted the Oz Motorsports 73AF to second followed by Dave Uttech and former Wilmot Raceway track champion Todd Daun. Sussex Wisconsin driver Danny Schlafer rounded out the top 5.
The second heat race was won by Blake Nimee, also coming from the fourth starting spot. Jordan Goldesberry brought his Rock Solid Lawn and Landscape 65 home in second followed by Jeremy Schultz, Scott Biertzer and Sean Rayhall.
The third and final heat race was claimed by Bill Balog from third over Russel Borland. Jake Blackhurst crossed in third over Scott Neitzel and "Mojo" Wayne Modjeski.
The first dash to set the A main lineup saw Mike Reinke use his outside front row starting spot to grab the lead and take the win, setting up the possibility of a sweep of the night. Thiel finished in second with Balog in third, Jeremy Schutlz in fourth and Jordan Goldesberry in fifth.
The second dash, setting the outside first five rows of the A saw Dave Uttech claim the win and front row starting spot over Jake Blackhurst and Blake Nimee. Modjeski and Todd Daun Rounded out the top five.
The A main saw the Bob Hood owned 10w piloted by Reinke take the early lead. Reinke lead over Balog who had charged from the 5th starting spot as they entered lapped traffic on lap nine. Reinke was utilizing the bottom of the Wilmot Raceway while Balog pounded the cushion around the outside. As they reached lapped traffic, the back of the field was all running the bottom. Reinke entered turn one in the middle trying to work his way past the lapped traffic, but Balog was able to carry more momentum through the corner and take the lead. Once Balog had claimed the lead he was able to set sail and claim another victory. Mike Reinke settled for second followed by Blake Nimee, Jeremy Schultz, and Jake Blackhurst.
Special thanks to Carriage Auto Body and Ken Iles for making this event a success!! We really appreciate all that you do.
410 Sprints 26 Entries
A Feature 1 36 Laps | 00:29:40.118 | Bumper to Bumper Auto Parts
17B-Bill Balog[5]; 2. 10W-Mike Reinke[1]; 3. 79-Blake Nimee[6]; 4. 5J-Jeremy Schultz[7]; 5. 73-Jake Blackhurst[4]; 6. 65-Jordan Goldesberry[9]; 7. 2W-Scott Neitzel[12]; 8. 23-Russel Borland[11]; 9. 25-Danny Schlafer[15]; 10. 20R-Rob Pribnow[23]; 11. 4B-Scott Biertzer[13]; 12. 68-Dave Uttech[2]; 13. 19-Todd Daun[10]; 14. 43-Jereme Schroeder[16]; 15. 77-Wayne Modjeski[8]; 16. 14R-Sean Rayhall[14]; 17. 29-Hunter Custer[22]; 18. 2A-Austin Archdale[20]; 19. 4K-Kris Spitz[24]; 20. 0-John Fahl[19]; 21. 55-Austin Deblauw[17]; 22. 10V-Matt VandeVere[18]; 23. 73AF-Scotty Thiel[3]; 24. 70-Chris Klemko[25]; 25. (DNS) 5H-Patrick Haynes; 26. (DNS) 14-Jack Routson
Dash 1 4 Laps | 00:03:03.309
10W-Mike Reinke[2]; 2. 73AF-Scotty Thiel[1]; 3. 17B-Bill Balog[4]; 4. 5J-Jeremy Schultz[5]; 5. 65-Jordan Goldesberry[3]
Dash 2 4 Laps | 00:02:08.121
68-Dave Uttech[1]; 2. 73-Jake Blackhurst[2]; 3. 79-Blake Nimee[3]; 4. 77-Wayne Modjeski[5]; 5. 19-Todd Daun[4]
Heat 1 10 Laps | 00:04:53.000 | Hepfner Racing Products / Weld Wheels
10W-Mike Reinke[4]; 2. 73AF-Scotty Thiel[1]; 3. 68-Dave Uttech[2]; 4. 19-Todd Daun[3]; 5. 25-Danny Schlafer[5]; 6. 43-Jereme Schroeder[6]; 7. 0-John Fahl[8]; 8. 4K-Kris Spitz[7]; 9. 70-Chris Klemko[9]
Heat 2 10 Laps | 00:04:49.000 | All Star Performance
79-Blake Nimee[4]; 2. 65-Jordan Goldesberry[2]; 3. 5J-Jeremy Schultz[3]; 4. 4B-Scott Biertzer[8]; 5. 14R-Sean Rayhall[1]; 6. 55-Austin Deblauw[6]; 7. 14-Jack Routson[9]; 8. 29-Hunter Custer[5]; 9. 5H-Patrick Haynes[7]
Heat 3 10 Laps | 00:04:32.000 | R&H Enterprises
17B-Bill Balog[3]; 2. 23-Russel Borland[1]; 3. 73-Jake Blackhurst[4]; 4. 2W-Scott Neitzel[5]; 5. 77-Wayne Modjeski[2]; 6. 10V-Matt VandeVere[7]; 7. 2A-Austin Archdale[8]; 8. 20R-Rob Pribnow[6]
Qualifying 1 | 00:16:33.000 | Osborn and Son Trucking
10W-Mike Reinke, 00:13.304[24]; 2. 79-Blake Nimee, 00:13.385[2]; 3. 73-Jake Blackhurst, 00:13.515[18]; 4. 19-Todd Daun, 00:13.522[26]; 5. 5J-Jeremy Schultz, 00:13.533[4]; 6. 17B-Bill Balog, 00:13.608[13]; 7. 68-Dave Uttech, 00:13.644[14]; 8. 65-Jordan Goldesberry, 00:13.687[20]; 9. 77-Wayne Modjeski, 00:13.692[5]; 10. 73AF-Scotty Thiel, 00:13.718[11]; 11. 14R-Sean Rayhall, 00:13.735[7]; 12. 23-Russel Borland, 00:13.770[1]; 13. 25-Danny Schlafer, 00:13.783[19]; 14. 29-Hunter Custer, 00:13.793[15]; 15. 2W-Scott Neitzel, 00:13.810[17]; 16. 43-Jereme Schroeder, 00:13.907[3]; 17. 55-Austin Deblauw, 00:13.921[12]; 18. 20R-Rob Pribnow, 00:13.943[25]; 19. 4K-Kris Spitz, 00:13.969[22]; 20. 5H-Patrick Haynes, 00:13.997[21]; 21. 10V-Matt VandeVere, 00:14.008[10]; 22. 0-John Fahl, 00:14.048[8]; 23. 4B-Scott Biertzer, 00:14.070[9]; 24. 2A-Austin Archdale, 00:14.148[23]; 25. 70-Chris Klemko, 00:14.234[16]; 26. 14-Jack Routson, 00:15.326[6]
Hot Laps 1 | 00:05:15.000
25-Danny Schlafer[19]; 2. 19-Todd Daun[26]; 3. 17B-Bill Balog[13]; 4. 10W-Mike Reinke[24]; 5. 68-Dave Uttech[14]; 6. 2W-Scott Neitzel[17]; 7. 2A-Austin Archdale[23]; 8. 73-Jake Blackhurst[18]; 9. 20R-Rob Pribnow[25]; 10. 73AF-Scotty Thiel[11]; 11. 10V-Matt VandeVere[10]; 12. 4K-Kris Spitz[22]; 13. 65-Jordan Goldesberry[20]; 14. 55-Austin Deblauw[12]; 15. 70-Chris Klemko[16]; 16. 5H-Patrick Haynes[21]; 17. 5J-Jeremy Schultz[4]; 18. 14R-Sean Rayhall[7]; 19. 23-Russel Borland[1]; 20. 29-Hunter Custer[15]; 21. 4B-Scott Biertzer[9]; 22. 79-Blake Nimee[2]; 23. 0-John Fahl[8]; 24. 77-Wayne Modjeski[5]; 25. 14-Jack Routson[6]; 26. 43-Jereme Schroeder[3]
---
Article Credit: Gared Tennyson
Submitted By: Kim Tennyson
Back to News