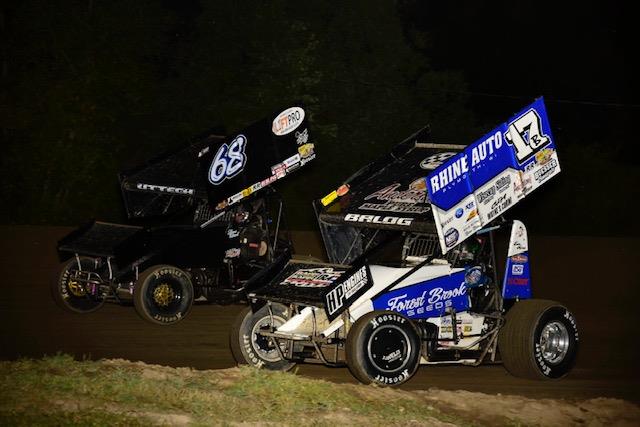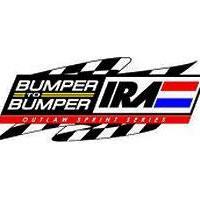 9/6/2020
IRA Interstate Racing Association
---
Balog Wins Two Out of Three - Mother Nature Gets One
Labor Day weekend traditionally means an action packed 3 day stretch of races for the Bumper to Bumper IRA Outlaw Sprints. The weekend would start Friday at the Dodge County Fairgrounds, then head to the Plymouth Dirt Track on Saturday and concluding in Maribel Wisconsin's 141 Speedway on Sunday.
Friday's Harry Neitzel Memorial at the "Horsepower Half Mile" saw 29 teams compete with Bill Balog setting quick time. Scotty Neitzel, Joey Moughan and Scotty Thiel all picked up heat race wins. Bill Balog won the first dash and Scotty Neitzel won the second, while Josh Schneiderman picked up the B main, setting the stage for 25 laps around the lightning quick facility.
Bill Balog took the early lead while Scotty Thiel and Jake Blackhurst quickly moved into second and third. Thiel had his sights set on Balog and was able to track him down in lapped traffic. Before Thiel could make a move the caution would fly. Cautions appeared to be Thiel's worst enemy, as Balog in open air was nearly impossible to beat. Thiel once again tracking Balog down in traffic would jump the cushion and get into the wall, sending his 64 machine upside down and bringing out the red flag. With the field bunched back up, Scotty Neitzel was able to work back into 2nd but had nothing for Balog as he claimed the victory.
Saturday saw 30 teams on hand for round four of the Hopf Farms Bullring Showdown. Ryan Ruhl making the trip from ColdWater, Michigan set quick time while Kyle Schuett, Danny Schlafer, and Josh Schneiderman picked up heat race wins. The dash's were won by Bill Balog and Scotty Thiel respectively and Sean Rayhall won the B main.
Thiel and Balog set a torrid pace battling for the lead as they entered lapped traffic which Joey Moughan not far behind. With 13 laps in Josh Schneiderman and Moughan had worked past Thiel as a red flag would fly for Travis Arenz in a third Oz Motorsports entry, Arenz would be okay but not restart. The restart would see contact between Thiel and Moughan send Thiel flipping into the turn four fence ending his night. In the waning laps Schneiderman would utilize the bottom of the raceway to work past Balog and take the lead, but with just 2 laps to go Schneiderman entered lapped traffic and Balog was able to use a lapped car as a pick and steal the lead and win away from Schneiderman.
Sundays event at 141 Speedway was unfortunately canceled do to area storms.
Media Results for 9/4/2020 at Dodge County Fairgrounds - Beaver Dam, WI
410 Sprints 29 Entries
A Feature 1 25 Laps | 00:34:16.690
17B-Bill Balog[1]; 2. 2W-Scott Neitzel[2]; 3. 73-Jake Blackhurst[6]; 4. 65-Jordan Goldesberry[4]; 5. 73AF-Joey Moughan[9]; 6. 4B-Scott Biertzer[13]; 7. 12W-Josh Walter[10]; 8. 23-Russel Borland[14]; 9. 25-Danny Schlafer[11]; 10. 47-Todd King[16]; 11. 14R-Sean Rayhall[19]; 12. 22M-Dan McCarron[12]; 13. 7-Scott Uttech[18]; 14. 9K-Kyle Schuett[20]; 15. 43-Jereme Schroeder[17]; 16. 77-Wayne Modjeski[15]; 17. 29-Hunter Custer[24]; 18. 20-Doug Wondra[23]; 19. 64-Scotty Thiel[5]; 20. 68-Dave Uttech[8]; 21. 5J-Jeremy Schultz[7]; 22. 5R-Ryan Ruhl[3]; 23. 14-Jack Routson[21]; 24. 4K-Kris Spitz[22]
B Feature 1 10 Laps | 00:09:23.499
49-Josh Schneiderman[2]; 2. 14R-Sean Rayhall[4]; 3. 9K-Kyle Schuett[1]; 4. 14-Jack Routson[3]; 5. 4K-Kris Spitz[6]; 6. 20-Doug Wondra[8]; 7. 29-Hunter Custer[5]; 8. 0-John Fahl[7]; 9. (DNS) 97-Alan Gilbertson; 10. (DNS) 20R-Rob Pribnow; 11. (DNS) 18S-Bryce Schmitt
Dash 1 4 Laps | 00:03:14.000
17B-Bill Balog[1]; 2. 5R-Ryan Ruhl[2]; 3. 64-Scotty Thiel[3]; 4. 5J-Jeremy Schultz[4]; 5. 73AF-Joey Moughan[5]
Dash 2 4 Laps | 00:02:47.000
2W-Scott Neitzel[1]; 2. 65-Jordan Goldesberry[2]; 3. 73-Jake Blackhurst[3]; 4. 68-Dave Uttech[4]; 5. 12W-Josh Walter[5]
Heat 1 8 Laps | 00:04:59.000
2W-Scott Neitzel[2]; 2. 17B-Bill Balog[4]; 3. 5J-Jeremy Schultz[3]; 4. 25-Danny Schlafer[5]; 5. 68-Dave Uttech[1]; 6. 43-Jereme Schroeder[7]; 7. 20R-Rob Pribnow[6]; 8. 4K-Kris Spitz[9]; 9. 18S-Bryce Schmitt[10]; 10. 97-Alan Gilbertson[8]
Heat 2 8 Laps | 00:08:40.000
73AF-Joey Moughan[2]; 2. 73-Jake Blackhurst[3]; 3. 12W-Josh Walter[4]; 4. 4B-Scott Biertzer[7]; 5. 23-Russel Borland[6]; 6. 47-Todd King[5]; 7. 14R-Sean Rayhall[9]; 8. 29-Hunter Custer[8]; 9. 20-Doug Wondra[10]; 10. 9K-Kyle Schuett[1]
Heat 3 8 Laps | 00:12:15.000
64-Scotty Thiel[4]; 2. 5R-Ryan Ruhl[2]; 3. 65-Jordan Goldesberry[3]; 4. 22M-Dan McCarron[5]; 5. 77-Wayne Modjeski[6]; 6. 7-Scott Uttech[9]; 7. 14-Jack Routson[8]; 8. 49-Josh Schneiderman[1]; 9. 0-John Fahl[7]
Qualifying 1 | 00:02:09.000
17B-Bill Balog, 00:17.526[27]; 2. 12W-Josh Walter, 00:17.643[29]; 3. 64-Scotty Thiel, 00:17.666[26]; 4. 5J-Jeremy Schultz, 00:17.912[20]; 5. 73-Jake Blackhurst, 00:17.936[5]; 6. 65-Jordan Goldesberry, 00:18.046[10]; 7. 2W-Scott Neitzel, 00:18.101[25]; 8. 73AF-Joey Moughan, 00:18.139[18]; 9. 5R-Ryan Ruhl, 00:18.183[13]; 10. 68-Dave Uttech, 00:18.295[15]; 11. 9K-Kyle Schuett, 00:18.320[4]; 12. 49-Josh Schneiderman, 00:18.376[23]; 13. 25-Danny Schlafer, 00:18.399[24]; 14. 47-Todd King, 00:18.443[17]; 15. 22M-Dan McCarron, 00:18.611[9]; 16. 20R-Rob Pribnow, 00:18.739[7]; 17. 23-Russel Borland, 00:18.846[11]; 18. 77-Wayne Modjeski, 00:18.859[1]; 19. 43-Jereme Schroeder, 00:18.985[22]; 20. 4B-Scott Biertzer, 00:19.040[19]; 21. 0-John Fahl, 00:19.147[21]; 22. 97-Alan Gilbertson, 00:19.285[16]; 23. 29-Hunter Custer, 00:19.330[3]; 24. 14-Jack Routson, 00:19.542[6]; 25. 4K-Kris Spitz, 00:19.590[12]; 26. 14R-Sean Rayhall, 00:19.743[8]; 27. 7-Scott Uttech, 00:20.056[28]; 28. 18S-Bryce Schmitt, 00:20.360[14]; 29. 20-Doug Wondra, 00:20.691[2]
Hot Laps 1 | 00:15:27.000
17B-Bill Balog[27]; 2. 64-Scotty Thiel[26]; 3. 2W-Scott Neitzel[25]; 4. 22M-Dan McCarron[9]; 5. 4B-Scott Biertzer[19]; 6. 73AF-Joey Moughan[18]; 7. 12W-Josh Walter[29]; 8. 5J-Jeremy Schultz[20]; 9. 5R-Ryan Ruhl[13]; 10. 68-Dave Uttech[15]; 11. 43-Jereme Schroeder[22]; 12. 23-Russel Borland[11]; 13. 7-Scott Uttech[28]; 14. 14R-Sean Rayhall[8]; 15. 0-John Fahl[21]; 16. 47-Todd King[17]; 17. 20R-Rob Pribnow[7]; 18. 65-Jordan Goldesberry[10]; 19. 73-Jake Blackhurst[5]; 20. 4K-Kris Spitz[12]; 21. 77-Wayne Modjeski[1]; 22. 97-Alan Gilbertson[16]; 23. 9K-Kyle Schuett[4]; 24. 18S-Bryce Schmitt[14]; 25. 14-Jack Routson[6]; 26. 20-Doug Wondra[2]; 27. 29-Hunter Custer[3]; 28. 25-Danny Schlafer[24]; 29. 49-Josh Schneiderman[23]
MyRacePassPowered by MyRacePass9/06/2020 4:28PM CST
Media Results for 9/4/2020 at Dodge County Fairgrounds - Beaver Dam, WI
360 Sprints - Winged 23 Entries
A Feature 1 20 Laps | 00:28:02.730
98-Brandon McMullen[4]; 2. 25T-Travis Arenz[5]; 3. 11-Tony Wondra[2]; 4. 7-Lance Fassbender[13]; 5. U2-Jack Vanderboom[9]; 6. 21H-Tim Haddy[1]; 7. U2W-Scott Neitzel[21]; 8. 4-Paul Pokorski[3]; 9. 24-Scott Conger[17]; 10. 21-Will Gerrits[16]; 11. 24M-Adam Miller[11]; 12. 68T-Tyler Davis[8]; 13. 51-Chris Larson[15]; 14. 99-Tyler Brabant[23]; 15. 26T-Tyler Tischendorf[18]; 16. 69-Bill Taylor[20]; 17. 26R-Preston Ruh[19]; 18. 0-Blake Wondra[22]; 19. 6K-Kurt Davis[6]; 20. 2C-Chris Clayton[7]; 21. 66-Nick Daywalt[10]; 22. 3-Justin Erickson[14]; 23. 15M-Justin Miller[12]
Heat 1 8 Laps | 00:05:17.853
25T-Travis Arenz[2]; 2. 68T-Tyler Davis[1]; 3. 2C-Chris Clayton[4]; 4. 21H-Tim Haddy[7]; 5. 51-Chris Larson[3]; 6. 21-Will Gerrits[5]; 7. 69-Bill Taylor[6]; 8. 0-Blake Wondra[8]
Heat 2 8 Laps | 00:04:32.021
98-Brandon McMullen[2]; 2. 4-Paul Pokorski[4]; 3. U2-Jack Vanderboom[3]; 4. 3-Justin Erickson[1]; 5. 15M-Justin Miller[5]; 6. 7-Lance Fassbender[7]; 7. U2W-Scott Neitzel[6]; 8. 99-Tyler Brabant[8]
Heat 3 8 Laps | 00:04:26.481
11-Tony Wondra[1]; 2. 6K-Kurt Davis[6]; 3. 66-Nick Daywalt[3]; 4. 24M-Adam Miller[4]; 5. 26T-Tyler Tischendorf[2]; 6. 24-Scott Conger[5]; 7. 26R-Preston Ruh[7]
Hot Laps 1 | 00:06:22.765
25T-Travis Arenz[4]; 2. 98-Brandon McMullen[5]; 3. 7-Lance Fassbender[20]; 4. U2W-Scott Neitzel[17]; 5. 6K-Kurt Davis[18]; 6. 68T-Tyler Davis[1]; 7. U2-Jack Vanderboom[8]; 8. 21H-Tim Haddy[19]; 9. 2C-Chris Clayton[10]; 10. 24M-Adam Miller[12]; 11. 26T-Tyler Tischendorf[6]; 12. 3-Justin Erickson[2]; 13. 69-Bill Taylor[16]; 14. 21-Will Gerrits[13]; 15. 15M-Justin Miller[14]; 16. 99-Tyler Brabant[23]; 17. 24-Scott Conger[15]; 18. 4-Paul Pokorski[11]; 19. 0-Blake Wondra[22]; 20. 51-Chris Larson[7]; 21. 66-Nick Daywalt[9]; 22. 11-Tony Wondra[3]; 23. 26R-Preston Ruh[21]
Media Results for 9/5/2020 at Plymouth Dirt Track-Sheboygan Co Fgds - Plymouth, WI
410 Sprints 30 Entries
A Feature 1 30 Laps | 00:41:41.954
17B-Bill Balog[1]; 2. 4B-Scott Biertzer[6]; 3. 49-Josh Schneiderman[7]; 4. 65-Jordan Goldesberry[15]; 5. 10W-Mike Reinke[4]; 6. 23-Russel Borland[13]; 7. 5R-Ryan Ruhl[3]; 8. 20R-Rob Pribnow[16]; 9. 2W-Scott Neitzel[12]; 10. 77-Wayne Modjeski[23]; 11. 22M-Dan McCarron[21]; 12. 14-Jack Routson[18]; 13. 14R-Sean Rayhall[19]; 14. 9K-Kyle Schuett[9]; 15. 68-Dave Uttech[22]; 16. 5J-Jeremy Schultz[14]; 17. 79-Blake Nimee[20]; 18. 0-John Fahl[24]; 19. 43-Jereme Schroeder[17]; 20. 73-Jake Blackhurst[8]; 21. 73AF-Joey Moughan[5]; 22. 64-Scotty Thiel[2]; 23. 73TC-Travis Arenz[11]; 24. 25-Danny Schlafer[10]
B Feature 1 12 Laps | 00:05:32.824
14R-Sean Rayhall[3]; 2. 79-Blake Nimee[9]; 3. 22M-Dan McCarron[5]; 4. 68-Dave Uttech[2]; 5. 77-Wayne Modjeski[8]; 6. 0-John Fahl[4]; 7. 29-Hunter Custer[6]; 8. 4K-Kris Spitz[10]; 9. 4-Bailey Goldesberry[7]; 10. 18S-Bryce Schmitt[11]; 11. (DNS) 7-Scott Uttech; 12. (DNS) 20-Kevin Seidler
Dash 1 4 Laps | 00:02:33.369
17B-Bill Balog[3]; 2. 5R-Ryan Ruhl[1]; 3. 73AF-Joey Moughan[2]; 4. 49-Josh Schneiderman[4]; 5. 9K-Kyle Schuett[5]
Dash 2 4 Laps | 00:01:53.685
64-Scotty Thiel[1]; 2. 10W-Mike Reinke[3]; 3. 4B-Scott Biertzer[2]; 4. 73-Jake Blackhurst[4]; 5. (DNS) 25-Danny Schlafer
Heat 1 10 Laps | 00:07:29.000
9K-Kyle Schuett[2]; 2. 73TC-Travis Arenz[1]; 3. 10W-Mike Reinke[3]; 4. 23-Russel Borland[5]; 5. 65-Jordan Goldesberry[6]; 6. 5R-Ryan Ruhl[4]; 7. 14R-Sean Rayhall[7]; 8. 4-Bailey Goldesberry[9]; 9. 4K-Kris Spitz[8]; 10. 18S-Bryce Schmitt[10]
Heat 2 10 Laps | 00:07:01.000
25-Danny Schlafer[1]; 2. 64-Scotty Thiel[3]; 3. 73-Jake Blackhurst[2]; 4. 73AF-Joey Moughan[4]; 5. 20R-Rob Pribnow[6]; 6. 14-Jack Routson[9]; 7. 0-John Fahl[7]; 8. 29-Hunter Custer[8]; 9. 7-Scott Uttech[5]; 10. 20-Kevin Seidler[10]
Heat 3 10 Laps | 00:04:56.000
49-Josh Schneiderman[1]; 2. 4B-Scott Biertzer[3]; 3. 2W-Scott Neitzel[2]; 4. 17B-Bill Balog[4]; 5. 5J-Jeremy Schultz[5]; 6. 43-Jereme Schroeder[7]; 7. 22M-Dan McCarron[8]; 8. 77-Wayne Modjeski[9]; 9. 79-Blake Nimee[10]; 10. 68-Dave Uttech[6]
Qualifying 1 | 00:00:24.000
5R-Ryan Ruhl, 00:11.767[2]; 2. 73AF-Joey Moughan, 00:11.777[3]; 3. 17B-Bill Balog, 00:11.813[25]; 4. 10W-Mike Reinke, 00:11.991[27]; 5. 64-Scotty Thiel, 00:12.018[15]; 6. 4B-Scott Biertzer, 00:12.095[1]; 7. 9K-Kyle Schuett, 00:12.146[28]; 8. 73-Jake Blackhurst, 00:12.151[12]; 9. 2W-Scott Neitzel, 00:12.195[14]; 10. 73TC-Travis Arenz, 00:12.216[24]; 11. 25-Danny Schlafer, 00:12.236[29]; 12. 49-Josh Schneiderman, 00:12.257[13]; 13. 23-Russel Borland, 00:12.299[9]; 14. 7-Scott Uttech, 00:12.317[23]; 15. 5J-Jeremy Schultz, 00:12.343[21]; 16. 65-Jordan Goldesberry, 00:12.356[30]; 17. 20R-Rob Pribnow, 00:12.372[5]; 18. 68-Dave Uttech, 00:12.398[16]; 19. 14R-Sean Rayhall, 00:12.399[6]; 20. 0-John Fahl, 00:12.486[4]; 21. 43-Jereme Schroeder, 00:12.577[10]; 22. 4K-Kris Spitz, 00:12.609[11]; 23. 29-Hunter Custer, 00:12.630[18]; 24. 22M-Dan McCarron, 00:12.660[20]; 25. 4-Bailey Goldesberry, 00:12.667[8]; 26. 14-Jack Routson, 00:12.703[22]; 27. 77-Wayne Modjeski, 00:12.811[19]; 28. 18S-Bryce Schmitt, 00:13.050[26]; 29. 20-Kevin Seidler, 00:13.314[7]; 30. (DQ) 79-Blake Nimee, 00:12.420[17]
Hot Laps 1 | 00:10:13.000
17B-Bill Balog[25]; 2. 64-Scotty Thiel[15]; 3. 10W-Mike Reinke[27]; 4. 5J-Jeremy Schultz[21]; 5. 65-Jordan Goldesberry[30]; 6. 25-Danny Schlafer[29]; 7. 68-Dave Uttech[16]; 8. 9K-Kyle Schuett[28]; 9. 73-Jake Blackhurst[12]; 10. 7-Scott Uttech[23]; 11. 22M-Dan McCarron[20]; 12. 73AF-Joey Moughan[3]; 13. 79-Blake Nimee[17]; 14. 2W-Scott Neitzel[14]; 15. 5R-Ryan Ruhl[2]; 16. 4B-Scott Biertzer[1]; 17. 49-Josh Schneiderman[13]; 18. 77-Wayne Modjeski[19]; 19. 23-Russel Borland[9]; 20. 43-Jereme Schroeder[10]; 21. 18S-Bryce Schmitt[26]; 22. 4K-Kris Spitz[11]; 23. 29-Hunter Custer[18]; 24. 20R-Rob Pribnow[5]; 25. 14R-Sean Rayhall[6]; 26. 73TC-Travis Arenz[24]; 27. 4-Bailey Goldesberry[8]; 28. 0-John Fahl[4]; 29. 14-Jack Routson[22]; 30. 20-Kevin Seidler[7]
---
Article Credit: Gared Tennyson
Submitted By: Kim Tennyson
Back to News