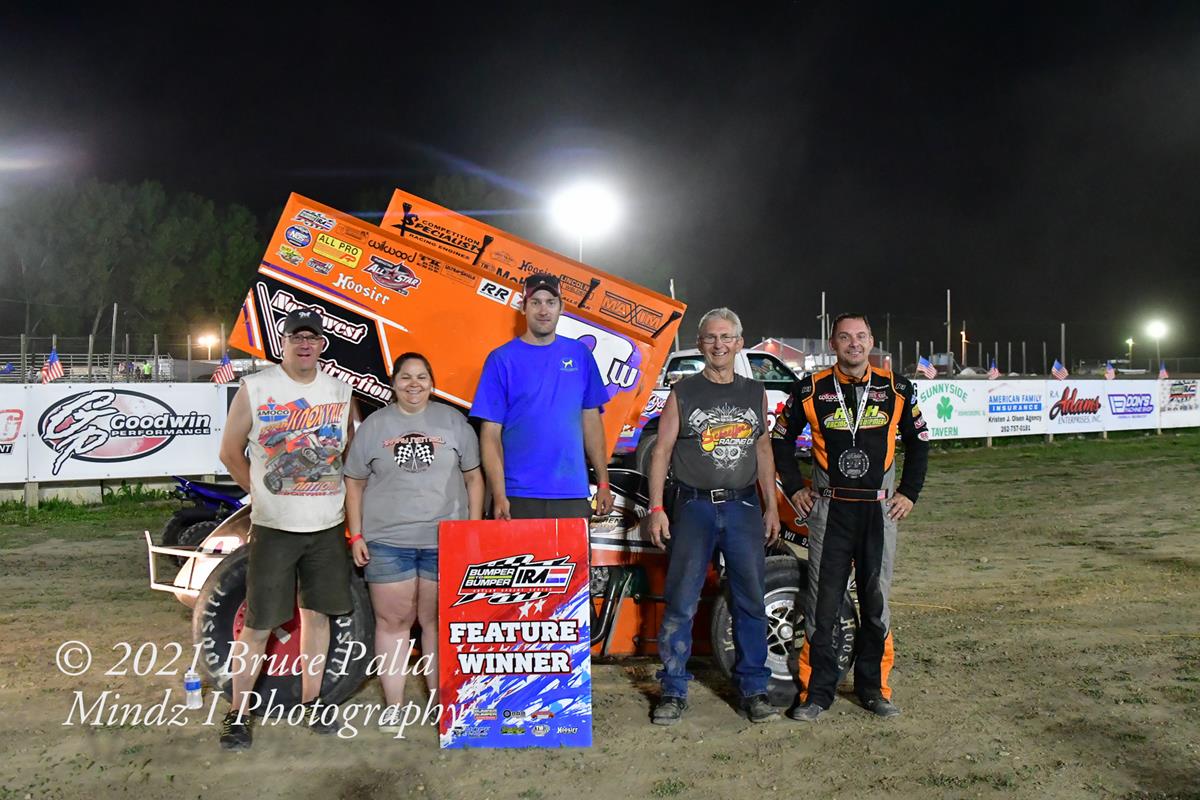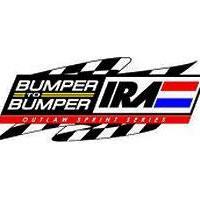 6/13/2021
IRA Interstate Racing Association
---
Neitzel Doubles Down at Wilmot Raceway
Scotty Neitzel could be called the iron man of the Bumper to Bumper IRA outlaw sprints. He has been a full time competitor for the last 28 years and in that time has missed almost no races. He has also claimed two championships and 23 wins against the best competition the midwest has to offer. In Neitzel's career he has raced and beat names like Balog, McCarl, Roe and Dollansky. Scotty has had a legendary career but recently had been struggling. His last win came in August of 2016 at the Dodge County Fair. This year however Neitzel seems to be back. He has been strong nearly every night out, leading all but the last lap and finishing 2nd at 141 a few weeks ago.
This weekend proved to be the time Scotty would loudly proclaim, he was still a contender night in and night out with the IRA. The series headed to Michigan on Friday night, and at the Hartford Speedway, Neitzel showed that the reconfiguration would not slow him down as he bested the field and claimed his first win in nearly 5 years.
On Saturday, Scotty Neitzel looked poised to back up the previous night's victory with another strong run at the birthplace of the IRA, Wilmot Raceway. In qualifying Neitzel was 3rd quick behind another IRA veteran, Mike Reinke and a former champion in Jake Blackhurst. In the heat race Scotty charged from 4th to 2nd but was beaten by his former crew man, Jeremy Schultz.
As the A main went green it was once again Schultz leading over Scotty Neitzel. As the pair entered lapped traffic, Neitzel's words from his Dodge County win 5 years prior rang true, as Scotty had said "I taught him[Schultz] everything he knows, but not everything I know." Neitzel was able to maneuver past the former IRA and Wilmot Raceway champion and once again as the checkered flags waved, it was Scotty Neitzel victorious, this time for the 25th time in his career and 7th on the all time series win list. Just behind Mike Reinke who captured his 26th win this season at Beaver Dam.
The IRA returns to action June 27th as the historic Angell Park Speedway. As always if you cannot be in attendance all races as streamed live on Flo Racing.
A Feature 1 30 Laps | 00:15:26.467
2W-Scott Neitzel[3]; 2. 39-Jake Blackhurst[1]; 3. 5J-Jeremy Schultz[2]; 4. 10W-Mike Reinke[5]; 5. 79-Blake Nimee[8]; 6. 4K-Kris Spitz[9]; 7. 85-Dustin Daggett[10]; 8. 23-Russel Borland[6]; 9. 20R-Rob Pribnow[12]; 10. 12-Corbin Gurley[11]; 11. 0-John Fahl[7]; 12. 29-Hunter Custer[16]; 13. 68-Dave Uttech[4]; 14. 70-Chris Klemko[15]; 15. 39D-Michael Decker[18]; 16. 24-Scott Conger[20]; 17. 88-Christopher Flick[13]; 18. 43-Jereme Schroeder[14]; 19. 7R-Andy Rein[17]; 20. 61-Zach Hansen[19]; 21. (DNS) 19B-Jack Berger
Dash 1 4 Laps | 00:02:39.214
39-Jake Blackhurst[2]; 2. 2W-Scott Neitzel[4]; 3. 10W-Mike Reinke[3]; 4. 0-John Fahl[1]; 5. 4K-Kris Spitz[5]
Dash 2 4 Laps
5J-Jeremy Schultz[2]; 2. 68-Dave Uttech[1]; 3. 23-Russel Borland[3]; 4. 79-Blake Nimee[4]; 5. 85-Dustin Daggett[5]
Heat 1 10 Laps | 00:04:59.000
85-Dustin Daggett[2]; 2. 79-Blake Nimee[3]; 3. 10W-Mike Reinke[4]; 4. 20R-Rob Pribnow[5]; 5. 29-Hunter Custer[6]; 6. 0-John Fahl[1]; 7. 24-Scott Conger[7]
Heat 2 10 Laps | 00:05:07.000
39-Jake Blackhurst[4]; 2. 68-Dave Uttech[1]; 3. 23-Russel Borland[3]; 4. 88-Christopher Flick[6]; 5. 43-Jereme Schroeder[5]; 6. 39D-Michael Decker[7]; 7. (DNS) 19B-Jack Berger
Heat 3 10 Laps | 00:05:21.000
5J-Jeremy Schultz[2]; 2. 2W-Scott Neitzel[4]; 3. 4K-Kris Spitz[3]; 4. 12-Corbin Gurley[1]; 5. 70-Chris Klemko[5]; 6. 7R-Andy Rein[7]; 7. 61-Zach Hansen[6]
Qualifying 1 | 00:12:47.000
10W-Mike Reinke, 00:13.049[10]; 2. 39-Jake Blackhurst, 00:13.103[20]; 3. 2W-Scott Neitzel, 00:13.152[9]; 4. 79-Blake Nimee, 00:13.179[1]; 5. 23-Russel Borland, 00:13.318[4]; 6. 4K-Kris Spitz, 00:13.469[7]; 7. 85-Dustin Daggett, 00:13.471[11]; 8. 19B-Jack Berger, 00:13.480[2]; 9. 5J-Jeremy Schultz, 00:13.583[14]; 10. 0-John Fahl, 00:13.618[3]; 11. 68-Dave Uttech, 00:13.660[6]; 12. 12-Corbin Gurley, 00:13.741[13]; 13. 20R-Rob Pribnow, 00:13.802[21]; 14. 43-Jereme Schroeder, 00:13.830[15]; 15. 70-Chris Klemko, 00:13.888[8]; 16. 29-Hunter Custer, 00:13.938[16]; 17. 88-Christopher Flick, 00:14.053[18]; 18. 61-Zach Hansen, 00:14.107[12]; 19. 24-Scott Conger, 00:14.752[17]; 20. 39D-Michael Decker, 00:15.283[5]; 21. 7R-Andy Rein[19]
Hot Laps 1 | 00:06:17.000
39-Jake Blackhurst[20]; 2. 10W-Mike Reinke[10]; 3. 79-Blake Nimee[1]; 4. 5J-Jeremy Schultz[14]; 5. 23-Russel Borland[4]; 6. 68-Dave Uttech[6]; 7. 0-John Fahl[3]; 8. 85-Dustin Daggett[11]; 9. 4K-Kris Spitz[7]; 10. 2W-Scott Neitzel[9]; 11. 43-Jereme Schroeder[15]; 12. 61-Zach Hansen[12]; 13. 12-Corbin Gurley[13]; 14. 29-Hunter Custer[16]; 15. 19B-Jack Berger[2]; 16. 20R-Rob Pribnow[21]; 17. 88-Christopher Flick[18]; 18. 7R-Andy Rein[19]; 19. 70-Chris Klemko[8]; 20. 24-Scott Conger[17]; 21. 39D-Michael Decker[5]
---
Article Credit: Gared Tennyson
Submitted By: Kim Tennyson
Back to News