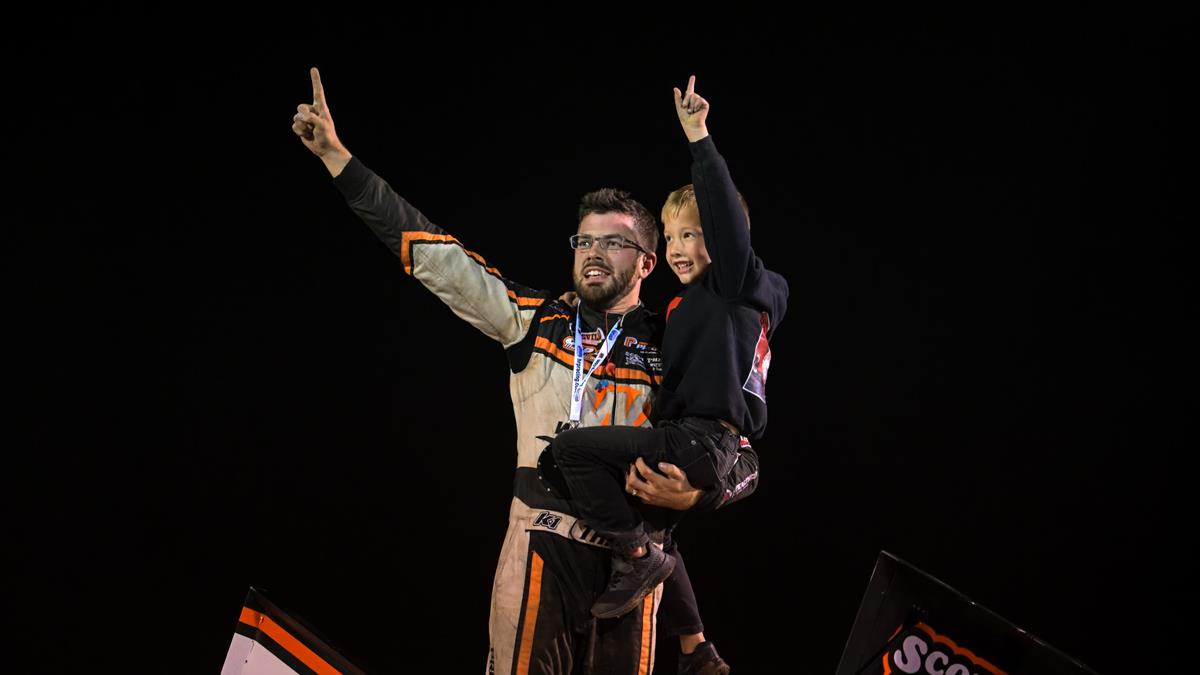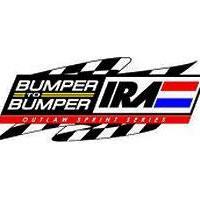 9/4/2023
IRA Interstate Racing Association
---
FIRST WIN OF THE IRA SEASON: Thiel Wins at Dodge County Fairgrounds
FIRST WIN OF THE IRA SEASON: Thiel Wins at Dodge County Fairgrounds
By Madeline Schultz
Brenham Crouch and Jordan Goldesberry would lead the field to the green for twenty laps around the Dodge County Fairgrounds. Goldesberry would get the one-up on the rest of the field from the outside of the front row.
Goldesberry would try to leave the rest of the field in the dust, while Bill Balog and Thiel would already be making their way around the high side to catch up to the Rockstar Energy Drink 65. He would see the tail of the field as we had a handful of laps ticked away. This allowed Balog and Crouch to close the gap on Goldesberry.
Jett Mann would draw out our first and only caution of the feature by getting up into the wall in turns 1 and 2. Goldesberry would be joined by Crouch in second, Balog third, Thiel fourth, and Schneiderman fifth. On the restart, Balog made a massive slider to take second from Crouch. Scotty Thiel would also pull the same move on Crouch for third as they headed out of turn four.
The race to watch was to see if either the North Pole Nightmare or the Big Wheel could catch Goldesberry. Ten laps to, as Balog would be the first to challenge Goldesberry for the lead as they headed down the front stretch. Thiel would try to peak his front nose wing under the 17B but was unsuccessful this time around.
Balog, running second, would again be challenged by Scotty Thiel and would surrender second to him in turn four with seven laps to go. Thiel would be on a mission to reel in Goldesberry. Brenham Crouch would also use this to move his High Plains Building Division 1 to third.
Scotty Thiel would use a wicked run down the backstretch to overtake the lead from Goldesberry and would lead lap 16. Goldesberry and him would dash into turn one where Goldesberry would attempt to throw the slider back, but it wouldn't stick and he would wash up in turn two allowing Balog and Crouch under his 65.
Thiel would take the white flag and then the checkered flag, Crouch would finish second, and Bill Balog would round out the podium for the Harry Neitzel Tribute Night. We all miss Harry and his smile around the track, and are grateful for the support the Neitzels have given us throughout numerous seasons with the series.
A Feature 20 Laps | 00:18:04.114
73-Scotty Thiel[5]; 2. 1-Brenham Crouch[1]; 3. 17B-Bill Balog[3]; 4. 65-Jordan Goldesberry[2]; 5. 46JR-Joel Myers Jr[7]; 6. 49-Josh Schneiderman[4]; 7. 25-Danny Schlafer[6]; 8. 10W-Mike Reinke[8]; 9. 79-Ian Madsen[17]; 10. 9K-Kyle Schuett[10]; 11. 47-Todd King[9]; 12. 23-Russel Borland[12]; 13. 5J-Jeremy Schultz[13]; 14. 2W-Scott Neitzel[11]; 15. 25T-Travis Arenz[22]; 16. 3N-Jake Neuman[16]; 17. U2-Jack Vanderboom[18]; 18. 19J-Jett Mann[15]; 19. 87A-Austin Hartmann[14]; 20. (DNF) 68-Dave Uttech[19]; 21. (DNF) 26-Tyler Tischendorf[20]; 22. (DNF) 39V-William Huck[21]; 23. (DNF) 24-Scott Conger[23]
Dash 1 4 Laps | 00:04:57.844
1-Brenham Crouch[1]; 2. 17B-Bill Balog[3]; 3. 73-Scotty Thiel[5]; 4. 46JR-Joel Myers Jr[2]; 5. (DNF) 47-Todd King[4]
Dash 2 4 Laps | 00:03:35.513
65-Jordan Goldesberry[2]; 2. 49-Josh Schneiderman[1]; 3. 25-Danny Schlafer[4]; 4. 10W-Mike Reinke[3]; 5. 9K-Kyle Schuett[5]
Heat 1 8 Laps | 00:05:51.009
25-Danny Schlafer[1]; 2. 65-Jordan Goldesberry[2]; 3. 17B-Bill Balog[4]; 4. 5J-Jeremy Schultz[6]; 5. 10W-Mike Reinke[3]; 6. 3N-Jake Neuman[5]; 7. 68-Dave Uttech[7]; 8. 39V-William Huck[8]
Heat 2 8 Laps | 00:05:29.645
73-Scotty Thiel[4]; 2. 2W-Scott Neitzel[1]; 3. 47-Todd King[2]; 4. 9K-Kyle Schuett[3]; 5. 87A-Austin Hartmann[5]; 6. 79-Ian Madsen[7]; 7. U2-Jack Vanderboom[6]; 8. (DNS) 24-Scott Conger
Heat 3 8 Laps | 00:05:43.704
46JR-Joel Myers Jr[1]; 2. 1-Brenham Crouch[4]; 3. 49-Josh Schneiderman[3]; 4. 23-Russel Borland[5]; 5. 19J-Jett Mann[6]; 6. (DNF) 26-Tyler Tischendorf[7]; 7. (DNF) 25T-Travis Arenz[2]
Qualifying | 00:00:50.995
17B-Bill Balog, 00:16.291[4]; 2. 73-Scotty Thiel, 00:16.447[9]; 3. 1-Brenham Crouch, 00:16.756[17]; 4. 10W-Mike Reinke, 00:16.868[21]; 5. 9K-Kyle Schuett, 00:16.872[1]; 6. 49-Josh Schneiderman, 00:16.884[20]; 7. 65-Jordan Goldesberry, 00:16.915[7]; 8. 47-Todd King, 00:16.940[15]; 9. 25T-Travis Arenz, 00:17.002[8]; 10. 25-Danny Schlafer, 00:17.019[22]; 11. 2W-Scott Neitzel, 00:17.023[3]; 12. 46JR-Joel Myers Jr, 00:17.054[13]; 13. 3N-Jake Neuman, 00:17.078[12]; 14. 87A-Austin Hartmann, 00:17.088[18]; 15. 23-Russel Borland, 00:17.096[5]; 16. 5J-Jeremy Schultz, 00:17.183[14]; 17. U2-Jack Vanderboom, 00:17.245[2]; 18. 19J-Jett Mann, 00:17.263[6]; 19. 68-Dave Uttech, 00:17.340[16]; 20. 79-Ian Madsen, 00:17.342[19]; 21. 26-Tyler Tischendorf, 00:17.516[10]; 22. 39V-William Huck, 00:19.778[23]; 23. 24-Scott Conger[11]
Hot Laps | 00:12:17.962
73-Scotty Thiel[9]; 2. 1-Brenham Crouch[17]; 3. 10W-Mike Reinke[21]; 4. 25-Danny Schlafer[22]; 5. 17B-Bill Balog[4]; 6. 47-Todd King[15]; 7. 49-Josh Schneiderman[20]; 8. 46JR-Joel Myers Jr[13]; 9. 5J-Jeremy Schultz[14]; 10. 3N-Jake Neuman[12]; 11. 26-Tyler Tischendorf[10]; 12. 9K-Kyle Schuett[1]; 13. 68-Dave Uttech[16]; 14. 23-Russel Borland[5]; 15. 65-Jordan Goldesberry[7]; 16. 87A-Austin Hartmann[18]; 17. 2W-Scott Neitzel[3]; 18. 79-Ian Madsen[19]; 19. 19J-Jett Mann[6]; 20. U2-Jack Vanderboom[2]; 21. 39V-William Huck[23]; 22. 25T-Travis Arenz[8]; 23. 24-Scott Conger[11]
---
Article Credit: Madeline "Chatty Madi" Schultz
Submitted By: Madeline Schultz
Article Media
Back to News