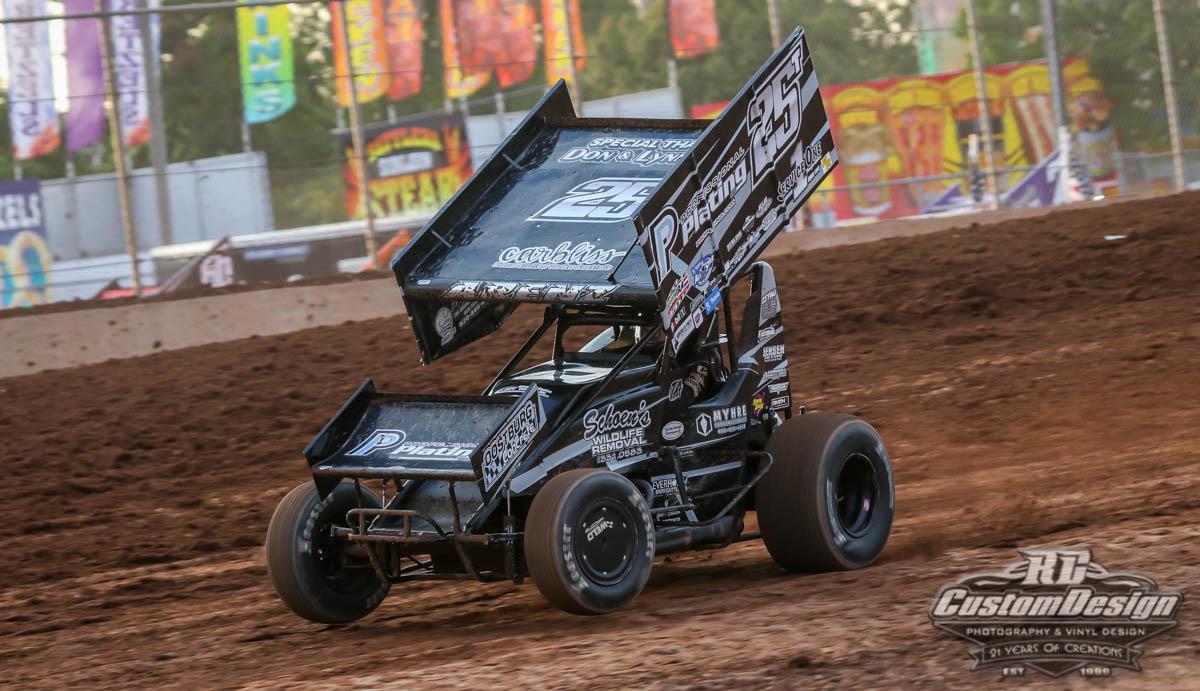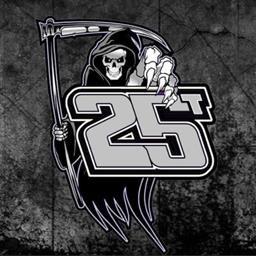 ---
Arenz puts home track knowledge on display in top-five Plymouth IRA run
(PEDAL DOWN PROMOTIONS) September 6, 2023 – As the 2023 Bumper to Bumper Interstate Racing Association 410 Sprint Car Series turns down the home stretch, Travis Arenz and the members of the Travis Arenz Motorsports team continue to string together impressive performances in their first full season of 410 Sprint Car competition.
After battling through an engine hiccup during the sixth annual Harry Neitzel Tribute race at the Dodge County Fairgrounds in Beaver Dam, Wis. on Friday, Sept. 1, Arenz bounced back with a strong fourth-place A-main showing at the team's home track – The Plymouth Dirt Track in Plymouth, Wis. during the annual 2023 Sheboygan County Fair Night event on Saturday, Sept. 2.
The Labor Day weekend of IRA doubleheader action kicked off on Friday, Sept. 1 at the Dodge County Fairgrounds Speedway "horsepower half mile" facility. With 23 IRA 410 Sprint cars on hand, Arenz qualified ninth with a lap of 17.002 seconds.
After starting on the outside of the front row in the third eight-lap IRA heat race, Arenz pulled into the infield on lap 3 with an ailing motor and was scored seventh in the race.
The engine issue prompted the team to turn to its back-up car for the 20-lap Harry Neitzel Tribute A main. After rolling off 22nd, Arenz worked his way up to place 15th in the race, which was won by Scotty Thiel.
"We definitely struggled at Dodge a little," Arenz said. "In the heat race, the motor got warm and I lost power. We found water coming out of the head studs and we ended up losing a head gasket. My crew and I decided the best option was to get the back-up car down. We had to start in the back for the feature, but we were able to pass seven cars. Finishing in one piece was the goal, after the rough start."
The following night, the team returned to the familiar confines of The Plymouth Dirt Track in Plymouth, Wis. for the annual Sheboygan County Fair Night IRA Sprint Car event and the fifth 2023 IRA appearance at the Sheboygan County Fairgrounds third-mile clay oval track.
With 30 cars on hand, Arenz turned in a fast lap of 11.973 seconds to qualify third overall. The 16th year driver then started and finished fourth in the third eight-lap IRA heat race.
The 2021 and 2022 Plymouth Dirt Track Racing and Midwest Sprint Car Association 360 Sprint Car champion lined up on the pole of the first four-lap IRA dash and led throughout to notch his second IRA dash victory of the 2023 season and nail down the pole for the 30-lap main event.
Arenz rode the low groove to lead the first four laps of the 30-lap headliner from the pole. On lap five, outside front row starter Jake Neuman swept past the Sheboygan Falls, Wis. driver into the lead along the cushion.
Following a caution on lap 8, Bill Balog relegated Arenz to third. After two more caution periods, Joel Myers Jr. slipped past Arenz in the closing laps to take over third. Arenz went on to secure a fourth place showing for his 11th top-five and 14 top-10 A-main finishes during the 2023 season in a race won by Jake Neuman.
"Plymouth was definitely one of our better nights," Arenz said. "We qualified third quick, made the dash, won the dash and started on the pole of the feature. I made a few mistakes driving and didn't always hit my marks in the A main, but had to try something on a few laps to try to make clean passes. I finished fourth, but, overall, I can't complain."
The Plymouth event also marked the conclusion of the 2023 Hopf Farms Bullring Showdown with Arenz earning a third place finish behind Jordan Goldesberry (second) and Brenham Crouch (first) the five-race series.
Arenz and 25T Travis Arenz Motorsports team will travel to the Northern and Western portions of the state of Wisconsin for the first time this weekend, starting Friday, Sept. 8 at Gondik Law Speedway in Superior, Wis. for the Northern Nationals.
The WISSOTA Modifieds, Super Stocks and Midwest Mods will also be on the card. Hot laps are scheduled to begin at 6 p.m. with racing at 6:30 p.m.
On Saturday, Sept. 9, the Travis Arenz Motorsports team is scheduled to make its debut at Cedar Lake Speedway in New Richmond, Wis. for the prestigious 23rd annual Jerry Richert Memorial.
The all-Sprint Car program will also feature the Midwest Power Series 360 Sprint Cars and Traditional Sprint Cars.
Pit gates open at 2 p.m. with spectator gates opening at 5 p.m., hot laps at 5:30 p.m. and racing at 6 p.m.
"I'm excited to go to Superior and Cedar Lake this upcoming weekend, as they are two tracks I have never raced at before," Arenz said.
All 2023 Bumper to Bumper Interstate Racing Association 410 Sprint Car Series events will be streamed live on FloRacing.
The 2023 Travis Arenz Motorsports sponsorship partners include Professional Plating Inc., Service One Transportation, Inc, Don and Lynn Kiel, Oostburg Concrete, Lakeshore Family Funeral Homes, Schoen's Wildlife Removal, Premier Insurance Solutions-Craig Ladwig, Pallet Works, DW Fence, Little Bears Tree Service LLC, Lake Auto Glass and Service, Myhre Construction LLC, Roth's Auto Restoration, Hair Fellers Barbershop, Fastenal of Plymouth, Jensen Sales and Service, Humphrey's Turner Hall Bar & Grill, Carbliss Hand Crafted Cocktails, Amy Bruechert Reality, Cornwell Tools-Paul Epping, Advanced Engine Concepts, Inc., Duehring's Tax Service, Everhope Show Cattle, HRP Wings and Behling Racing Equipment.
The 2023 Travis Arenz Motorsports team consists of pit crew members Greg Piedot, Jerrod Gamb, Emily Stadler, Cameron Fritz, Bobby Bonelli and Trevor Hittman (public relations).
Additional information on the Travis Arenz Motorsports team can be found by visiting the team's Facebook and Twitter pages.
Travis Arenz Motorsports Sponsor Showcase – Humphrey's Turner Hall Bar & Grill
Travis Arenz Motorsports is pleased to have Humphrey's Turner Hall Bar & Grill on board as a sponsorship partner for the team's rookie season of competition with the Bumper to Bumper Interstate Racing Association 410 Sprint Car Series in 2023.
Located at 202 East Elizabeth St. in Plymouth, Wis., Humphrey's Turner Hall Bar & Grill is a cozy, friendly, small town corner bar serving cold drinks, hot pizza and fun in an atmosphere where everyone is welcome.
Contact Humphrey's Turner Hall Bar & Grill by phone at 920-400-1015 or email inthebagsheboygan@gmail.com.
Pedal Down Promotions is a full-service public relations and media services company devoted to helping its clients effectively communicate with targeted audiences through press releases, newsletters, profile and feature articles, website and social media content development, printed media, editing and layout, graphic design and book publishing services.
For more information on Pedal Down Promotions, email pedaldownpromotions@gmail.com, visit www.pedaldownpromo.com or call 920-323-7970.
Travis Arenz Motorsports
Remaining 2023 IRA Schedule
Friday, Sept. 8 – Gondik Law Speedway, Superior, Wis. (IRA)
Saturday, Sept. 9 – Cedar Lake Speedway, New Richmond, Wis. (IRA)
Saturday, Sept. 16 – 141 Speedway, Francis Creek, Wis. (IRA)
Saturday, Sept. 30 – Plymouth Dirt Track, Plymouth, Wis. (IRA)
Travis Arenz Motorsports
410 Sprint Car
2023 Season
By The Numbers
Total Events – 25
IRA Events – 24
All Star Events – 3
A Main Victories – 1
Top Five A Main Finishes – 11
Top 10 A Main Finishes – 14
Top 15 A Main Finishes – 19
Top 20 A Main Finishes – 20
Heat Race Victories – 3
B Main Victories – 0
Dash Appearances – 6
Dash Victories – 2
Fast Qualifier Awards – 0
Travis Arenz Motorsports
360 Sprint Car
2023 Season
By The Numbers
Total MSA-PDTR Events – 2
A Main Victories – 0
Top Five A Main Finishes – 0
Top 10 A Main Finishes – 0
Heat Race Victories – 0
B Main Victories – 1
Fast Qualifier Awards – 0
---
Article Credit: Jeff Pederson-Pedal Down Promotions
Submitted By: Jeff Pederson
Back to News